Stocks-Morgan, Helen (2013) Medieval Remains at Beaulieu (zone D) Chelmsford. [Client Report] (Unpublished)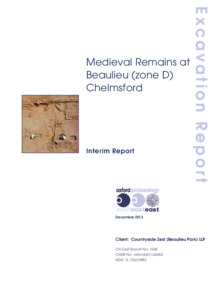 Preview
PDF




Report 1544 Site 11 and D1_LR.pdf


Available under License Creative Commons Attribution Share Alike.
Download (2MB) | Preview
Abstract
Oxford Archaeology east carried out an open area excavation within two areas in Zone D, Beaulieu ahead of the proposed development of residential housing. The works were carried out between the 27/9/13 and 23/10/13.
A medieval ditched enclosure was recorded in the northern area (area D1). Inside the enclosure was a 14th century house platform with a series of ovens built around a fireplace at one end of the structure. To the east of the building was a metalled pathway and to the west was a metalled yard surface.
The southern area (site 11) revealed a further, deeper-ditched enclosure with small internal ditched divisions. In the south-west of the opened area, within the enclosure, were the remains of an undated timber-built structure, represented by beam-slots. A second, later building, dating to the 15/16th century lay slightly to the north of this, and had a brick fireplace built into it's southern wall. To the west of this lay a metalled yard surface and possible trackway.
Item Type:
Client Report
Uncontrolled Keywords:
archaeological excavation, essex, chelmsford, beaulieu, interim report, medieval, moat, hearth, fireplace, house platform, pottery, medieval pottery, CBM, medieval CBM, ceramic building material, bricks, beam slots, 14th century, timber building
Subjects:
Geographical Areas > English Counties > Essex
Period > UK Periods > Medieval 1066 - 1540 AD
Period > UK Periods > Post Medieval 1540 - 1901 AD
Divisions:
Oxford Archaeology East
Depositing User:

Chris Faine

Date Deposited:
02 Aug 2016 08:56
Last Modified:
02 Aug 2016 08:56
URI:
http://eprints.oxfordarchaeology.com/id/eprint/2900
Actions (login required)