Simmonds, Andrew and Champness, Carl Shinfield West, Berkshire. [Client Report] (Unpublished)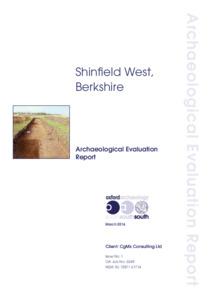 Preview
PDF




SHWE16-PdfA.pdf


Download (8MB) | Preview
Abstract
Oxford Archaeology was commissioned by CgMs Consulting Ltd to undertake an
archaeological evaluation of the site of a proposed housing development at
Shinfield West, Berkshire. The work was undertaken to help inform and support a
future planning application.
An array of 149 trenches was excavated across the site, representing an
approximate 2% sample of the area. The trench array was designed to provide an
even coverage of the site, with an increased density of trenching in three areas of
particular archaeological potential (Areas 1, 2 and 3).
Four areas of archaeological remains were identified, situated in Area 1, Area 2, at
the western limit of Area 3 and in the south-eastern part of the site. The northern
part of the evaluation area was largely devoid of archaeological features, as was the
southern end, south of Area 1. Very few features produced any artefactual material
and this has hampered interpretation of the date or function of the features.
The largest and most significant area of archaeological remains comprised feature
in Area 1 and also encompassed feature in Trenches 7, 11 and 13 to the west of the
Area and Trenches 133 and 135 to the north. The most significant feature within this
area was A probable barrow in Trench 145, comprising a ring ditch and a central
feature interpreted as a burial pit. The other features in this area are likely to be
agricultural boundaries and enclosures comprising a field system of uncertain, but
possibly later prehistoric in date.
The features in Area 2 comprised a group of undated ditches that may be part of a
field system associated with a cropmark complex that extends into this part of the
site from the west.
The group of features in Area 3 was restricted to a hearth and a tree-throw hole,
located in adjacent at the western edge of the area. Neither feature could be
assigned a certain date but both contained worked flint (one piece in three-throw
hole 5303 and three in hearth 8802), which may indicate that they represent an area
of prehistoric activity.
The features in the south-eastern part of the site comprised a varied group that
included ditches in several trenches as well as two pits and a pair of postholes.
None of the features produced any certain dating evidence. The large quantity of
burnt flint that was recovered from the lower fill of pit 6803 in Trench 68 may
indicate that it was associated with cooking activities, perhaps representing an area
of domestic occupation within a complex of field boundaries.
Actions (login required)