Bush, Louise (2015) Land off Worts' Causeway GB1 and GB2, Cambridge. [Client Report] (Unpublished)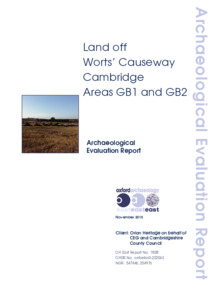 Preview
PDF




Worts' Causeway Eval Report.pdf


Available under License Creative Commons Attribution Share Alike.
Download (60MB) | Preview
Abstract
Between the 21st of September and the 2nd of October 2015 Oxford Archaeology East undertook an archaeological evaluation on land off of Worts' Causeway, Cambridge (TL 47446, 54976). The site consisted of two separate land parcels: GB1 (5.8 hectares) on the north side of the Worts' Causeway and GB2 (6.8 hectares) to the south.
A total of 44 trenches were excavated across the site and archaeological features were recorded in 30 of these. In Area GB1, ten of the 24 trenches contained archaeological features, whilst all 20 of the trenches in GB2 contained archaeological remains.
Trenching across Area GB1 identified the remnant of a cobbled trackway with an associated roadside ditch running broadly east-west. This is probably Late Bronze Age/Early Iron Age in date. There is a high potential for this trackway to link up with those identified during the Bell Language School and Papworth Trust excavations.
The majority of the features identified across Area GB2 were ditches belonging to a Middle Bronze Age field system. This field system consisted of large east-northeast to west-southwest aligned ditches spaced c.160m apart, with a number of smaller north-northeast to south-southwest aligned internal divisions.
Toward the southern end of Area GB2 there were indications for peripheral settlement activity. Up to eleven postholes were revealed in Trench 42, a number of which could potentially form part of a circular post-built structure. Collections of struck flint, unworked burnt flint and fire-cracked stone were also recovered from features in Trenches 33 and 44. Further domestic activity was identified in Trench 35, which had an area of intercutting pits containing assemblages of pottery, animal bone, struck flint and burnt stone.
Low levels of Neolithic activity in the form of pits containing Early Neolithic pottery and struck flint were also seen across the site.
The remains of the Second World War anti-tank defence, known as the GHQ Line, was also identified across both areas of the site. Dug in 1940, this ditch was part of the final guard against the threat of a German land invasion.
Item Type:
Client Report
Uncontrolled Keywords:
archaeological excavation, cambridgeshire, cambridge, wort's causeway, neolithic, bronze age, trackway, settlement, ww2 world war two, anti-tank defences, pottery, beaker pottery, flint, worked flint, settlement
Subjects:
Geographical Areas > English Counties > Cambridgeshire
Period > UK Periods > Bronze Age 2500 - 700 BC
Period > UK Periods > Bronze Age 2500 - 700 BC > Early Bronze Age 2500 - 1500 BC
Period > UK Periods > Neolithic 4000 - 2200 BC > Early Neolithic 4000 - 3000 BC
Period > UK Periods > Neolithic 4000 - 2200 BC > Late Neolithic 2700 - 2200 BC
Period > UK Periods > Bronze Age 2500 - 700 BC > Middle Bronze Age 1600 - 1,000 BC
Period > UK Periods > Modern 1901 - present
Period > UK Periods > Neolithic 4000 - 2200 BC
Divisions:
Oxford Archaeology East
Depositing User:

Chris Faine

Date Deposited:
30 Sep 2016 08:39
Last Modified:
30 Sep 2016 08:39
URI:
http://eprints.oxfordarchaeology.com/id/eprint/2917
Actions (login required)