Bush, Louise (2016) Cranford Business Park, Kettering. [Client Report] (Unpublished)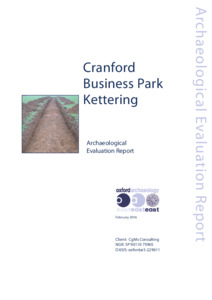 Preview
PDF




Cranford Business Park_Evaluation_LR.pdf


Available under License Creative Commons Attribution Share Alike.
Download (12MB) | Preview
Abstract
During October and December 2015, Oxford Archaeology East (OA East) carried out an archaeological trial trench evaluation on land north and south of the A6, by Junction 10 of the A14 (SP 90110 75965), ahead of the construction of an industrial estate with associated roadways and parking.
A total of 55 trenches were excavated, targeted upon the results of a geophysical survey. Of these 55 trenches, 27 were seen to contain archaeological features. The remains date from the Bronze Age through to the Romano-British period, with early 20th century activity also being seen.
The earliest feature was a single Early Bronze Age collared urn cremation from Trench 10. Very low levels of contemporary struck flint were also recovered from the surrounding trenches.
Later Iron Age activity (350-100BC) was concentrated across the north and eastern portions of the site. Pits containing pottery and animal bone assemblages were identified in Trenches 22, 23, 30, 35, 37, 38 and 48. Activity from this period continued in the form of substantial enclosure ditches (in Trenches 22, 23, 31, 32, 35, 38, 42, 44 and 47).
Trenches 9 to 13 (to the south of the A6) contained dense levels of archaeology dating from the 1st to 2nd century AD. Lesser amounts of contemporary archaeology were also uncovered in Trenches 17 and 20 (to the north of the A6). This Roman archaeology was dominated by a series of farmstead enclosures. A very large pit (5m wide) containing a substantial assemblage of Roman pottery, vessel glass and metalwork was also identified in this area.
The south-eastern extents of the site were taken over by a former early 20th century ironstone quarry, which is known (through Ordnance Survey maps) to have had a network of tramways associated with it. The remnants of these tramways were identified in Trenches 20, 24, 34 and 50.
The results of the trial trench evaluation have confirmed the presence of archaeological remains across the site, and correlate with the findings from the geophysical survey. A small number of further features were also uncovered which were not identified during the geophysical survey.
Item Type:
Client Report
Uncontrolled Keywords:
archaeological evaluation, northamptonshire, kettering, bronze age, iron age, roman, romano-british, modern, quarry, tramway, cremation, urned cremation, enclosures, roman enclosures, collared urn, pottery, roman pottery, iron age pottery
Subjects:
Geographical Areas > English Counties > Northamptonshire
Period > UK Periods > Bronze Age 2500 - 700 BC > Early Bronze Age 2500 - 1500 BC
Period > UK Periods > Iron Age 800 BC - 43 AD
Period > UK Periods > Iron Age 800 BC - 43 AD > Late Iron Age 100 BC - 43 AD
Period > UK Periods > Modern 1901 - present
Period > UK Periods > Roman 43 - 410 AD
Divisions:
Oxford Archaeology East
Depositing User:

Chris Faine

Date Deposited:
07 Oct 2016 08:16
Last Modified:
07 Oct 2016 08:16
URI:
http://eprints.oxfordarchaeology.com/id/eprint/2920
Actions (login required)