Gilmour, Nick (2012) Land East of Kettering, Phase A. [Client Report] (Unpublished)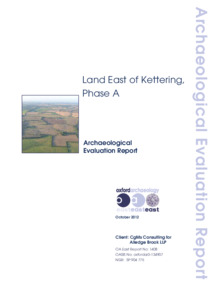 Preview
PDF




XNNEKE12_report_1408_V2_full_LR.pdf


Available under License Creative Commons Attribution Share Alike.
Download (20MB) | Preview
Abstract
Between 21st August and 2nd October 2012, Oxford Archaeology East carried out an archaeological evaluation (Phase A) of a c.350ha proposed development on land east of Kettering, Northamptonshire. This comprised the excavation of 253 trenches, each 50m long (with the exception of one 40m trench) over c.205ha of land. Prior to the trenching a geophysical survey had already been carried out and the results of this were used to inform the trench locations.
The evaluation identified eight distinct areas of activity, most of which dated to the Later Iron Age and Earlier Roman periods. These areas correspond well with those suggested by the geophysical survey, but appear to bear little relationship to the geological or topographical setting.
Six areas of predominantly Later Iron Age date appeared to represent small farmsteads. Finds from these sites comprised largely pottery and animal bone. Charred cereal grains and chaff were recovered from the environmental samples taken from these features.
The two remaining areas differed in character and dated to the Earlier Roman period. One was characterised by a large number of ditches, postholes and pits from which a substantial assemblage of pottery, comprising largely storage jars and kitchen wares, was recovered. In addition, a copper alloy brooch of immediately pre-conquest date was found within the subsoil. This site seems to be a farmstead, on a larger scale to the Iron Age examples already noted. The second area of Roman activity is more enigmatic. No structural features were identified, but a substantial pottery assemblage, comprising fine wares and kitchen wares, was found within ditches.
In addition, a sunken-featured building containing pottery of 5th to 9th century AD date was excavated. This suggests some continuity of land use beyond the Roman period. Of particular interest is an Early Saxon iron bell, also recovered from the sunken-featured building.
Overall this evaluation suggests an interesting archaeological landscape, which could offer insights into the Iron Age to Roman transition.
Item Type:
Client Report
Uncontrolled Keywords:
archaeological excavation, northamptonshire, kettering, iron age, roman, medieval, pottery, iron age pottery, roman pottery, roman brooch, colchester brooch, early medieval pottery, anglo-saxon, anglo-saxon iron bell
Subjects:
Geographical Areas > English Counties > Northamptonshire
Period > UK Periods > Early Medieval 410 - 1066 AD
Period > UK Periods > Iron Age 800 BC - 43 AD
Period > UK Periods > Iron Age 800 BC - 43 AD > Late Iron Age 100 BC - 43 AD
Period > UK Periods > Roman 43 - 410 AD
Divisions:
Oxford Archaeology East
Depositing User:

Chris Faine

Date Deposited:
11 Oct 2016 09:17
Last Modified:
11 Oct 2016 09:17
URI:
http://eprints.oxfordarchaeology.com/id/eprint/2922
Actions (login required)