Pickstone, Alexandra and Mortimer, Richard (2010) The excavation of a remnant of the Iron Age Ring Monument 'War Ditches' at The East Pit, Lime Kiln Road, Cherry Hinton, Cambridge. [Client Report] (Unpublished)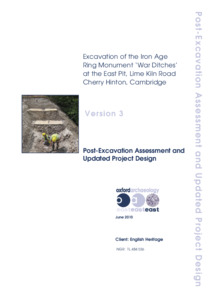 Preview
PDF




Final PXA June2010_LR.pdf


Available under License Creative Commons Attribution Share Alike.
Download (5MB) | Preview
Abstract
This document forms an assessment and updated project design for the site archive generated by fieldwork undertaken by Oxford Archaeology East at War Ditches, Cherry Hinton, Cambridgeshire (TL 484 555) between the 20th April and 17th June 2009. The document sets out the research framework and proposed methods for the analysis and report preparation stages, as prescribed by English Heritage.
War Ditches was a large, probably circular enclosure, lying on a spur of the Gog Magog hills to the south of Cambridge. Much of the monument was destroyed as a result of quarrying for chalk. Had the monument survived, it would undoubtedly have acquired scheduled status as one of the key prehistoric monuments in the county.
The emergency archaeological work supported by English Heritage was undertaken in advance of groundworks undertaken to open the site to the public as a nature reserve by the Wildlife Trust.
Item Type:
Client Report
Uncontrolled Keywords:
archaeological excavation, cambridgeshire, cambridge, gog magog hills, war ditches, pxa, iron age, iron age enclosure, english heritage, rescue excavation, updated project design, post-excavation assessment
Subjects:
Geographical Areas > English Counties > Cambridgeshire
Period > UK Periods > Iron Age 800 BC - 43 AD
Period > UK Periods > Roman 43 - 410 AD
Divisions:
Oxford Archaeology East
Depositing User:

Chris Faine

Date Deposited:
11 Oct 2016 10:20
Last Modified:
11 Oct 2016 10:20
URI:
http://eprints.oxfordarchaeology.com/id/eprint/2923
Actions (login required)