Ladd, Stuart (2014) Archaeological Evaluation at Land east of New Road, Melbourn. [Client Report] (Unpublished)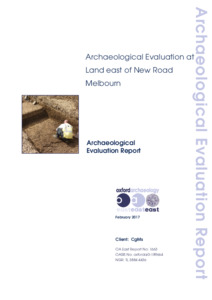 Preview
PDF




MELNER14_Report_1663_Final_LR.pdf


Available under License Creative Commons Attribution Share Alike.
Download (5MB) | Preview
Abstract
In August 2014, Oxford Archaeology East excavated 32 trenches totalling approximately 1360m in length at land east of New Road, Melbourn, TL 3884 4436. Trenches were targeted based geophysical and aerial photographic surveys.
Across the site, several natural hollows, believed to have glacial origins, were encountered and shown to preserve buried dry land soils containing evidence of Mesolithic and Early Neolithic activity and possible occupation across the landscape. These varied in size from 6 to at least 35m across. A single small pit, containing pottery and hearth stones, and an associated posthole indicated Middle Neolithic occupation in the west of the site.
A Bronze Age ring ditch, known from geophysical survey, was exposed in three trenches. In the east of the site, a field system of probable Middle Bronze Age date, comprising at least two enclosures, was recorded, with elements of another to the southeast. More enclosures on the same alignment are known to exist further south. A large pit or well, dating between the Middle Bronze Age and Early Iron Age, and a number of postholes lay within the enclosure.
At the northern corner of the site, a depression or hollow of prehistoric date was found to have a metalled surface at its base: possible ground stabilisation around a pool or well.
From the Roman period, a single possible beam slot was excavated while a number of residual finds came from later features. A probable Roman ditch was also uncovered below what may be a medieval headland running north-south in the centre of site.
A disused trackway, possibly part of the Roman route, Ashwell Street, running east-west across the middle of the site was found to have stark variations in its depth and form, including a section of hollow way close to New Road. This track forms the basis of the Medieval ridge and furrow system across the west and south of the area. An undated curvilinear ditch was recorded near the western portion and two undated converging ditches were recorded near its centre.
Several ditches and associated subdivisions, as well as a metalled track dating from parliamentary enclosure in the 1830s were also recorded.
Item Type:
Client Report
Uncontrolled Keywords:
archaeological evaluation, cambridgeshire, melbourn, ring ditch, trackway, field system, ridge and furrow, jetton, ploughsoil, medieval, neolithic, prehistoric, roman
Subjects:
Geographical Areas > English Counties > Cambridgeshire
Period > UK Periods > Bronze Age 2500 - 700 BC
Period > UK Periods > Medieval 1066 - 1540 AD
Period > UK Periods > Neolithic 4000 - 2200 BC
Period > UK Periods > Roman 43 - 410 AD
Divisions:
Oxford Archaeology East
Depositing User:

Chris Faine

Date Deposited:
26 Oct 2016 10:20
Last Modified:
10 Feb 2017 11:42
URI:
http://eprints.oxfordarchaeology.com/id/eprint/2934
Actions (login required)