Greef, Andrew (2014) Land Adjacent to Melbourn Substation, Melbourn, Cambridgeshire. [Client Report] (Unpublished)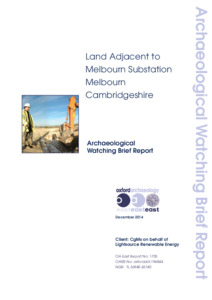 Preview
PDF




MELSUB14 Report 1705_LR.pdf


Available under License Creative Commons Attribution Share Alike.
Download (5MB) | Preview
Abstract
From the 20th to the 24th October Oxford Archaeology East undertook a watching brief which led to an archaeological excavation at the land adjacent to Melbourn substation. The site is located 1.6km west of the centre of Melbourn, Cambridgeshire just off the A10 and next to the railway line (TL 36940 43740). The work was commissioned by CgMs Consulting on behalf of Lightsource Renewable Energy Ltd.
An area of 0.3ha was excavated and a number of both natural features and archaeological features were uncovered and subsequently excavated and recorded.
Several large natural hollows were test pitted however were devoid of any archaeological finds. A group of tree throws however contained a quantity of Early and Middle Neolithic pottery and an assemblage of struck flint.
Two parallel ditches, of probable Roman date ran northwest to southeast across the site and were aligned perpendicular to the line of Ashwell Street Roman road, which forms the southern boundary of the site.
Item Type:
Client Report
Uncontrolled Keywords:
archaeological evaluation, cambridgeshire, melbourn, substation, Ashwell Street, neolithic, arrowhead, worked flint, pottery, trackway, roman, end scraper, roman road
Subjects:
Geographical Areas > English Counties > Cambridgeshire
Period > UK Periods > Neolithic 4000 - 2200 BC > Early Neolithic 4000 - 3000 BC
Period > UK Periods > Neolithic 4000 - 2200 BC > Middle Neolithic 3500 - 2700 BC
Period > UK Periods > Roman 43 - 410 AD
Divisions:
Oxford Archaeology East
Depositing User:

Chris Faine

Date Deposited:
26 Oct 2016 10:36
Last Modified:
26 Oct 2016 10:36
URI:
http://eprints.oxfordarchaeology.com/id/eprint/2935
Actions (login required)