Consultancy, Dept. Land at West Witney, Oxfordshire Archaeological desk based assessment March 1998 Addendum 1 Assessment of Hedgerows & historic Field Boundaries May 2002 Addendum 2 Updated Assessment & Walkover Survey June 2002. [Client Report] (Unpublished)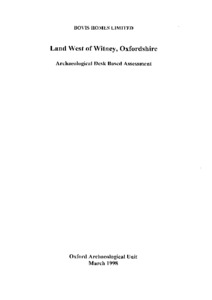 Preview
PDF




WITNCCO.DBAWestWitney.pdfA.pdf


Download (1MB) | Preview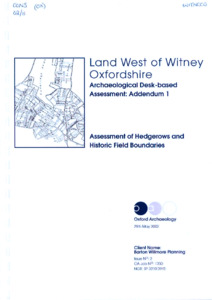 Preview
PDF




WITNCCODBAAddendum1.pdfA.pdf


Download (3MB) | Preview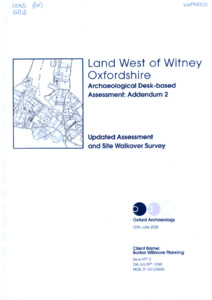 Preview
PDF




WITNCCODBAAddendum2.pdfA.pdf


Download (2MB) | Preview
Abstract
The Oxford Archaeological Unit was asked by Bovis Homes Limited to undertake anarchaeological desk based assessment of an area of 61.8 hectares l30m to the west of Witney,
Oxfordshire (NGR SP 33 l0 0945). The proposed development will have a varied schedule of land use, although over half will be allocated to the construction of houses. A detailed
ground plan of the development has not yet been drawn up.
In this report the documentary and archaeological sources relating to the area of the proposed development and study area (1km around the site) are examined in order to determine thelikely nature, extent, preservation and importance of archaeological remains, and how these
may be effected by the development. No site visit was undertaken as part of this assessment in anticipation of a fieldwalking program proposed by the Oxford Archaeological Unit, in consultation with Bovis Homes Limited.
Actions (login required)