Greef, Andrew (2015) A Late Neolithic Henge at Ashwell: Post-excavation Assessment and Updated Project Design. [Client Report] (Unpublished)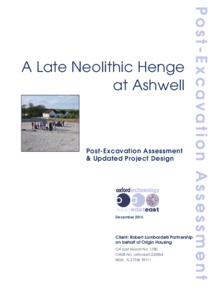 Preview
PDF




XHTASH15_Report_1780_LR.pdf


Available under License Creative Commons Attribution Share Alike.
Download (1MB) | Preview
Abstract
In May 2015 Oxford Archaeology East conducted an archaeological excavation on the eastern side of the village of Ashwell at the rear of a cul de sac (the Walkden's). The excavation was targeted on a ring ditch thought to belong to a ploughed out Bronze Age barrow. In fact, it formed the ditch of a Late Neolithic Class II henge monument. The henge had a 21 to 22 m internal diameter and a 25 to 26.5m external diameter. Its two opposing entrances were located at the north-west and south-east.
The remainder of the site (which was subsequently extended) was characterised by pits, both within the henge itself and to the north-west of the monument. Some of the pits inside the henge seemed to form part of an interior ring whilst the pits outside were not distributed in any particular pattern.
All features on the site were 100% excavated and the full length of the henge ditch was exposed. The base of the henge ditch was uneven and is thought to have been originally dug as a series of pits. Along the edge of the ditch and in places at the base were yet more pits. Some of these pits were thought to be dug when the ditch had not started to silt up to any significant degree and others were cut through the fill of the ditch.
One of these pits, which clearly cut the lower fill of the henge, contained cremated human bone which has been radiocarbon dated to the Bronze Age. This cremation was located in one of the terminal ends of the ditch at the south-eastern entrance and may suggest that the monument maintained its presence in the landscape long after activity on the site had ended.
Item Type:
Client Report
Uncontrolled Keywords:
archaeological excavation, hertfordshire, ashwell, henge, ring ditch, late neolithic class II henge monument, late neolithic, bronze age, pits, cremated bone, cremations, pottery
Subjects:
Geographical Areas > English Counties > Hertfordshire
Period > UK Periods > Bronze Age 2500 - 700 BC
Period > UK Periods > Iron Age 800 BC - 43 AD
Period > UK Periods > Neolithic 4000 - 2200 BC > Late Neolithic 2700 - 2200 BC
Period > UK Periods > Neolithic 4000 - 2200 BC
Divisions:
Oxford Archaeology East
Depositing User:

Chris Faine

Date Deposited:
07 Nov 2016 09:32
Last Modified:
07 Nov 2016 09:32
URI:
http://eprints.oxfordarchaeology.com/id/eprint/2940
Actions (login required)