Haskins, Anthony (2014) Prehistoric landscape at the new agricultural reservoir, Rosedene Farm, Methwold. [Client Report] (Unpublished)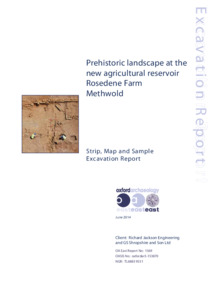 Preview
PDF




Report 1569_XNFRFM13_LR.pdf


Available under License Creative Commons Attribution Share Alike.
Download (3MB) | Preview
Abstract
Between the 27th June and 26th September 2013, Oxford Archaeology East carried out a Strip, Map and Sample excavation during the construction of an agricultural reservoir at Rosedene farm, Methwold. The works entailed the excavation in spits of between 0.6 and 2.4m of peat, across a 9.4 hectare site.
A total of five utilised tree throws, containing charcoal, animal bone and struck flint were found at the bottom of the archaeological sequence, underlying the peat. The struck flint assemblage included Mesolithic microliths
The project revealed that prior to the formation of the peat, the area was heavily forested. From the Late Neolithic onwards conditions gradually became wetter, turning first into Alder Carr fen woodland and eventually into a large body of water, potentially by the Late Bronze Age. The carbon dating could not elucidate this any further as a result of obligate water plants fixing ancient carbon from the chalk.
Within the upper part of the Alder Carr wood peat, evidence for beaver activity was identified with the recovery of beaver hewn wood, forming a lodge or food store. Fragments of stone axe cut wood were also recovered from this deposit.
A post-medieval willow drain was found at the top of the archaeological sequence cutting into the underlying peat.
Item Type:
Client Report
Uncontrolled Keywords:
archaeological excavation, archaeological watching brief, norfolk, methwold, waterlogged remains, worked wood, beaver, drain, beaver lodge, anthropogenic, willow, alder carr fen, mesolithic, bronze age, post-medieval, peat, flint, struck flint, stone axe
Subjects:
Geographical Areas > English Counties > Norfolk
Period > UK Periods > Bronze Age 2500 - 700 BC
Period > UK Periods > Mesolithic 10,000 - 4,000 BC
Period > UK Periods > Post Medieval 1540 - 1901 AD
Divisions:
Oxford Archaeology East
Depositing User:

Chris Faine

Date Deposited:
08 Nov 2016 13:10
Last Modified:
08 Nov 2016 13:10
URI:
http://eprints.oxfordarchaeology.com/id/eprint/2942
Actions (login required)