Stocks-Morgan, Helen (2015) Middle Bronze Age, Late Bronze Age and Medieval Remains on Land at Zone A Housing, Beaulieu, Chelmsford. [Client Report] (Unpublished)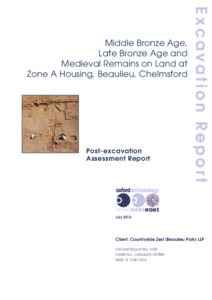 Preview
PDF




Report 1630 Final LR.pdf


Available under License Creative Commons Attribution Share Alike.
Download (1MB) | Preview
Abstract
Four archaeological excavations were carried out within Zone A housing at Beaulieu, Chelmsford. (TL 7185 1031). The fieldwork took place between the 9th of April and 27th of May 2014.
The first area (A2) encountered the remains of a Late Iron Age enclosure and two Late Iron Age pits associated with domestic settlement.
Two separate areas totalling 400m² and 406m² in area (areas A3 and A4) targeted Late Iron Age pits to the south of the development area.
The northern area (Site 7) uncovered a Middle Bronze Age ditch, along with part of a scattered Late Bronze Age settlement area, attested to by the remains of seven pits containing domestic refuse. Two phases of medieval activity were recorded, representing part of an ancillary manorial complex.
The earliest Medieval phase comprises five ditches delineating small enclosures. The later phase included a putative watering hole or large semi-industrial pit, with a cobbled surface to one side and hedge line arrangements potentially for the control of livestock.
Item Type:
Client Report
Uncontrolled Keywords:
archaeological excavation, essex, chelmsford, beaulieu park, beaulieu, post-excavation assessment, pxa, pottery, animal remains, late bronze age, iron age, medieval
Subjects:
Geographical Areas > English Counties > Essex
Period > UK Periods > Bronze Age 2500 - 700 BC
Period > UK Periods > Iron Age 800 BC - 43 AD
Period > UK Periods > Bronze Age 2500 - 700 BC > Late Bronze Age 1000 - 700 BC
Period > UK Periods > Iron Age 800 BC - 43 AD > Late Iron Age 100 BC - 43 AD
Period > UK Periods > Medieval 1066 - 1540 AD
Period > UK Periods > Bronze Age 2500 - 700 BC > Middle Bronze Age 1600 - 1,000 BC
Divisions:
Oxford Archaeology East
Depositing User:

Chris Faine

Date Deposited:
14 Nov 2016 13:45
Last Modified:
14 Nov 2016 13:45
URI:
http://eprints.oxfordarchaeology.com/id/eprint/2945
Actions (login required)