Clough, Sharon St. Lawrence Primary School, Alton, Hampshire Archaeological Excavation Report. [Client Report] (Unpublished)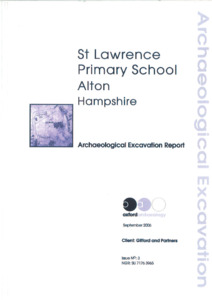 Preview
PDF




ALSLPS 05_Pdfa.pdf


Download (13MB) | Preview
Abstract
During August and September 2005, Oxford Archaeology (OA) carried out an archaeological excavation at St. Lawrence Primary School, Alton, Hampshire (NGR SU 71765 39650). The work was commissioned by Gifford and Partners, following previous evaluation work on the site for Hampshire County Council, in advance of a proposed extension to the school's existing buildings.
The excavation revealed 56 earth-cut graves containing single inhumations. These dated two distinct phases of activity: early medieval (12th-13th centuries) and post-medieval (18th-19th centuries). The medieval burials produced evidence for burial practice, including 'ear-muff' stones and early coffins. One adult female was buried holding a stone spindlewhorl.
The post-medieval inhumations were bounded to the north by a boundary ditch, wall and fence line, their NE - SW orientation clearly respecting this land division. The inhumations had been interred within fairly modest wooden coffins, some decorated with coffin furniture. The style of two grip plates has not previously been catalogued. Amongst the burials found was a child of 5-6 years with a set of marbles placed at its feet.
Osteological assessment of human bone revealed a fairly healthy population in both the medieval and post-medieval periods. However, one infant showed evidence of early congenital syphilis.
A little residual Bronze Age flint and pottery was recovered but the bulk of the finds assemblages dated to the two main periods of activity.
In November 2005, a watching brief was undertaken in the area immediately adjoining the existing school building, revealing a series of four pits, all post-medieval in date and truncated by the existing school building. A further watching brief in July 2006 for a pipe trench, adjacent to the north-eastern edge of the excavation area, revealed no archaeological features.
Actions (login required)