Simmonds, Andrew Stratford House, Buckingham, Buckinghamshire Archaeological Investigation Report. [Client Report] (Unpublished)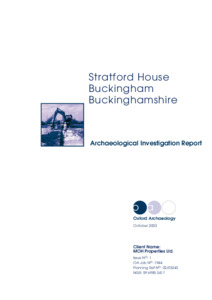 Preview
PDF




BUS03.pdf


Download (718kB) | Preview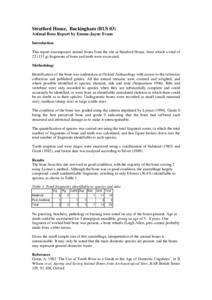 Preview
PDF




BUS03_Animal_bone.pdf


Download (13kB) | Preview
Abstract
Between 13th and 15th August 2003, Oxford Archaeology (OA) carried out an excavation at Stratford House, Stratford, Buckingham on behalf of MOH Properties Ltd, in order to mitigate the effects of the construction of a new driveway.
The results of the excavation, combined with those of a previous archaeological evaluation of the site indicate that the site was occupied from the 11th to 13th centuries and then again from the 17th century down to the present day, with a hiatus in occupation between these two periods. This could indicate that the town contracted in the aftermath of the Black Death, witht he excavation site then lying derelict until the town expanded again in the post-medieval period.
On 5th September 2003, additional works were carried out by OA on behalf of Robert Burns of RB2 Architects, on land adjacent to Number 2 Stratford Road. The additional works were undertaken in order to ascertain the potential impact on any archaeological deposits from the proposed construction of a new house.
The work comprised two test pits, which were monitored under an archaeological watching brief. These pits revealed two cultivation layers that had been cut by a 19th century foundation trench.
Actions (login required)