Early, Robert and OAU, OAU Red Lion Street, Alvechurch, Hereford and Worcester Archaeological Field Evaluation. [Client Report] (Unpublished)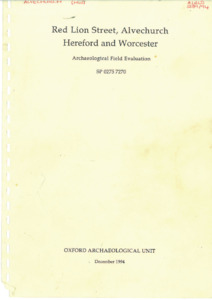 Preview
PDF




ALRLS94_Pdfa.pdf


Download (2MB) | Preview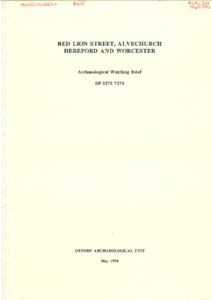 Preview
PDF




ALRLS94(WB).pdf


Download (1MB) | Preview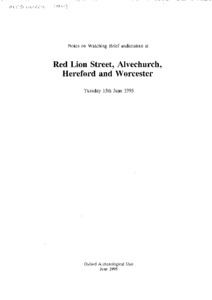 Preview
PDF




ALRLS94(Tanning_Pit_WB1995).pdf


Download (145kB) | Preview
Abstract
The Oxford Archaeological Unit undertook a field evaluation Red Lion Street, Alvechurch, on behalf of Beazer Homes (Mercia) Ltd in December 1994. Six trenches were excavated (approximately a 3% sample of the development area). The positioning of the trenches was dictated by the present site layout, a pedestrian way; the positioning of services; and to allow sufficient access to avoid any unnecessary damage to boundary fences and property. The eventual trench layout offers a satisfactory sample of the archaeology that may be present on the site.
No structural or artefactual evidence was recovered from trench 1. Trench 2 produced a possible lain surface dating between the 15th and 1th century, and two later wall foundations. Two circular pits and a posthole were identified in trench 3 and an irregular N/S-aligned linear feature from trench 6. These features were dated between the 12th and 14th century.
No boundary was identified between the Red Lion Street and Bear Hill tenements. A layer dated between the 12th and 14th century lay above natural geology in trench 4, and was overlain by a sequence of post-medieval garden soil and dumped deposits. This sequence was similar to that observed in trench 5.
In December 1994 a watching brief was carried out at the same site and a sequence of medieval garden soils, post-medieval cess pit and Victorian tanning pit were found.
Actions (login required)