Early, Robert London Road, Newbury, Berkshire Archaeological Evaluation. [Client Report] (Unpublished)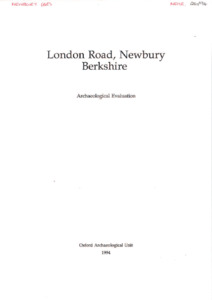 Preview
PDF




NEHR94_Pdfa.pdf


Download (1MB) | Preview
Abstract
The Oxford Archaeological Unit (OAU) undertook a field evaluation at London Road, Newbury (Planning Application No.144160) on behalf of Dreweatt Neate from the 9th to the 13th of May 1994. Five trenches were positioned to provide a representative 4% sample of the areas to be affected by the proposed residential development.
Three trenches located in the waterlogged southern end of the site revealed similar stratified sequences which comprised of a humic topsoil which overlay two peaty layers, above the natural gravel. This sequence was interrupted in places by recent levelling.
The two trenches located at the northern end of the site revealed a silty sand topsoil which overlay layers of make-up above natural gravel. The make-up layer were cut by an E/W-aligned linear trench which contained material and was believed to be a recently constructed sewage trench. In the southern end of the N/S-aligned trench the edge of a watercourse was observed which represents the boundary between the two contrasting stratigraphic sequences identified on the site.
No archaeological features were identified and the dating evidence recovered on site falls between the 18th and 20th century. A piece of residual burnt flint and a possible flint flake were recovered
Actions (login required)