Zant, John (2016) Chester Northgate Redevelopment Drainage Proposals - DBA. [Client Report] (Unpublished)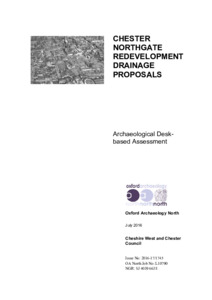 Preview
PDF




Combined_Northgate_drainage_dba_June2016.pdf


Download (7MB) | Preview
Abstract
This report presents the results of an archaeological desk-based assessment
undertaken by OA North in late June/early July 2016 for two study areas adjacent to
the Chester Northgate development site (centred on SJ 4039 6638), one extending
broadly south and west from the development's south-west corner, the other northwest
of the development boundary, on behalf of Chester West and Cheshire Council.
The study areas were assessed for their archaeological significance in order to inform
proposals for the possible construction of new surface water drains for the proposed
development, potentially emptying into the Shropshire Union Canal and/or the River
Dee. Overall, five potential routes were assessed, three extending north and west of
the development site, one of which drains into the canal, the other two into the river,
and two extending from the south-west corner of the site (one running south, the
other broadly west), both draining directly into the Dee. The report includes an
outline of the archaeological and historical background of the assessment areas,
covering all periods, which provides a context for the results of the archaeological
study. The assessment examined all available relevant primary and secondary
sources; all sites identified during the course of the work were listed in a gazetteer
and plotted onto maps of the study areas.
The study areas lie partially within Chester's Area of Archaeological Importance
(AAI), within which all significant archaeological remains are afforded statutory
protection under the terms of the Ancient Monuments and Archaeological Areas Act
(1979). Additionally, they encompass parts of 14 of the city's Archaeological
Character Areas, as defined by the Chester Archaeological Characterisation as part of
the Chester Urban Archaeological Database (UAD) Project. The Character Areas
form an integral part of the Chester Archaeological Plan, which was endorsed by the
Cheshire West and Chester Local Development Framework Panel as a key Evidence
Base Document supporting the preparation of the Chester Local Plan.
Actions (login required)