Haskins, Anthony (2016) Strip, Map and Sample of the new Overflow and Distribution Mains, Postwick, Norfolk. [Client Report] (Unpublished)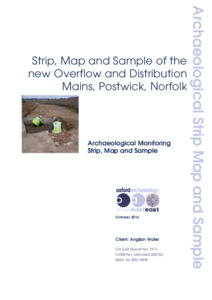 Preview
PDF




report 1971_LORES.pdf


Available under License Creative Commons Attribution Share Alike.
Download (5MB) | Preview
Abstract
Oxford Archaeology East carried out a series of Strip, Map and Sample excavations along the route of the Postwick Overflow and Distribution Mains associated with the new Sewage Treatment Works investigated by Oxford Archaeology East (Green and Haskins 2015).
The southern area (ENF133969), along the route of the Overflow, was located by the River Yare and a number of undated field boundaries and drainage ditches were excavated.
Excavation along the route of the Distribution Main (ENF133970) revealed a small area of enclosure ditches and post-holes to the south of the village of Great Plumstead. A single fragment of early medieval pottery dated this area of settlement to the 11th to 12th century.
To the north of Great Plumstead, along Hare Road, a series of medieval and post-medieval field boundaries were found in association with a cellared farm-building and well of post-medieval date. A series of quarry pits were identified to the south of the buildings, the upper fills of which contained fragments of fired and baked clay that are likely to be either kiln or hearth waste. An assemblage of late medieval Transitional Ware (LMT), including what are believed to be pottery waster sherds, was also recovered. Although no kiln was identified at the site it is believed that these sherds were produced nearby. The most likely calibrated radio-carbon date from charred plant remains within the fill of this pit proved to be 1350–1392 calAD (95.4% probability).
At the northern end of the route, a series of ditches were uncovered. Although the ditches were largely devoid of archaeological material a radio-carbon date of 3192 ± 31 radio-carbon years was produced from ditch fill 4008, potentially placing it in the Bronze Age.
Item Type:
Client Report
Uncontrolled Keywords:
archaeological excavation, norfolk, broadland, postwick, witton, river yare, medieval, post-medieval, bronze age, pottery, cbm, ceramic building material, late medieval transitional ware, carbon date, grains, building, quarry pit
Subjects:
Geographical Areas > English Counties > Norfolk
Period > UK Periods > Bronze Age 2500 - 700 BC
Period > UK Periods > Medieval 1066 - 1540 AD
Period > UK Periods > Post Medieval 1540 - 1901 AD
Divisions:
Oxford Archaeology East
Depositing User:

Chris Faine

Date Deposited:
30 Nov 2016 14:07
Last Modified:
30 Nov 2016 14:07
URI:
http://eprints.oxfordarchaeology.com/id/eprint/3090
Actions (login required)