Thatcher, Chris (2015) Late Iron Age and Roman Field Systems in the Bourne Valley, Cambourne Secondary School, Cambourne. [Client Report] (Unpublished)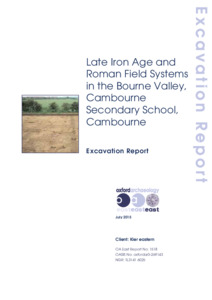 Preview
PDF




CBNCSS12_Report1518_LR.pdf


Available under License Creative Commons Attribution Share Alike.
Download (3MB) | Preview
Abstract
Between August 2011 and June 2012 Oxford Archaeology East conducted several phases of archaeological mitigation at the site of a proposed new school (buildings and playing fields) immediately to the west of Cambourne (centred on TL 3141 6025). These comprised a geophysical survey and assessment of the aerial photographic evidence, a trial trenching evaluation, followed by the full excavation of four open areas, highlighted for their archaeological potential by the evaluation.
Evidence for the edge of a putative Late Iron Age settlement comprising post-built structures, pits and enclosure ditches was recorded in the southern part of the proposed development area, close to a series of cropmarks identified by aerial photographic survey. These included part of the route of a probable droveway that spanned the western part of the site.
During the Roman period a system of field boundaries was laid out that appeared to respect pre-existing land divisions, established during the Iron Age. These formed part of an extensive network of fields, predominantly associated with pasture and animal husbandry. No evidence for Roman occupation was recorded within the bounds of the excavation, although a possible barn in Area 4 and a single inhumation recorded during the evaluation phase may hint at proximity to a small farmstead to the north-west of the site. Activity here was short-lived and the site fell out of use during the later Roman period, a process very tentatively interpreted as being 'marked' by the placement of a 3rd century vessel, containing large quantities of buckthorn, and an articulated lower limb from a horse within the upper fills of the major boundary ditch in Area 1.
The sequence of Late Iron Age to Early Roman activity recorded by this excavation forms part of a wider body of investigations conducted within this locality that have helped to elucidate a pattern of dispersed settlement throughout this landscape.
No further activity was in evidence within the site until the medieval period when a system of ridge and furrow agriculture was imposed, from which point onwards the development area remained under arable cultivation into the modern period.
Item Type:
Client Report
Uncontrolled Keywords:
archaeological excavation, cambridgeshire, cambourne, school, iron age, roman, field systems, ridge and furrow, boundary ditch, placed deposit, buckthorn, pottery, horse limb, post hole
Subjects:
Geographical Areas > English Counties > Cambridgeshire
Period > UK Periods > Iron Age 800 BC - 43 AD
Period > UK Periods > Iron Age 800 BC - 43 AD > Late Iron Age 100 BC - 43 AD
Period > UK Periods > Post Medieval 1540 - 1901 AD
Period > UK Periods > Roman 43 - 410 AD
Divisions:
Oxford Archaeology East
Depositing User:

Chris Faine

Date Deposited:
05 Dec 2016 10:12
Last Modified:
05 Dec 2016 10:12
URI:
http://eprints.oxfordarchaeology.com/id/eprint/3093
Actions (login required)