Cox, Nicholas (2016) Belsar Farm, Willingham, Cambridegshire. [Client Report] (Unpublished)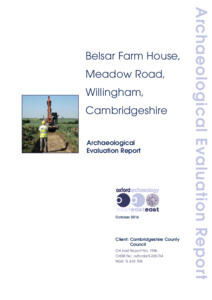 Preview
PDF




Report 1986_LR.pdf


Available under License Creative Commons Attribution Share Alike.
Download (1MB) | Preview
Abstract
Between 13th and 19th of September 2016 Oxford Archaeology East conducted an archaeological evaluation consisting of six trial trenches at Belsar Farm, Meadow Road, Willingham, Cambridgeshire (centred TL 4102 789)
The trenching revealed features of mainly post-medieval date, consisting of a series of predominately north to south aligned ditches and gullies, together with the foundations of a demolished 16th-17th century brick barn. A single north to south aligned ditch and a large clay extraction pit of medieval date were also found, the pit having a dump of demolition material from the later building in the top of it.
The plough soils contained large amounts of material from the demolished building.
A small amount of both medieval and post-medieval pottery and animal bone was recovered along with some clay tobacco pipe and large amounts of 16th to 17th century brick.
Item Type:
Client Report
Uncontrolled Keywords:
archaeological evaluation, cambridgeshire, willingham, medieval, post-medieval, structure, barn, pottery, cbm, clay tobacco pipe, ceramic building material
Subjects:
Geographical Areas > English Counties > Cambridgeshire
Period > UK Periods > Medieval 1066 - 1540 AD
Period > UK Periods > Post Medieval 1540 - 1901 AD
Divisions:
Oxford Archaeology East
Depositing User:

Chris Faine

Date Deposited:
13 Jan 2017 10:10
Last Modified:
13 Jan 2017 10:10
URI:
http://eprints.oxfordarchaeology.com/id/eprint/3120
Actions (login required)