Warner, Angela School End Farm, Great Horwood. [Client Report] (Unpublished)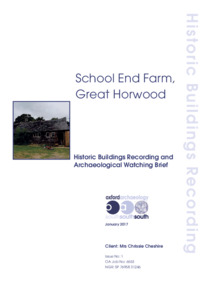 Preview
PDF




GHSEF16_PdfA.pdf


Download (10MB) | Preview
Abstract
Oxford Archaeology was commissioned to carry out historic building recording on a
barn in the curtilage of Grade II Listed School End Farmhouse ahead of demolition,
followed by an archaeological watching brief during the excavation of the foundations
of a replacement building to the north east of the barn.
According to the map evidence, the barn was constructed between 1842 and 1880. It
may have been constructed re-using the elm tie-beams from a building of half its
width, or it was doubled in width before 1880 and a brick wall constructed along the
centre of the building to support the beams. At some point in the early to mid 20th
century it received a new roof, and the slates, which may have already been in at least
their second phase of use, were refitted.
Throughout the run of the available maps of 1842 onwards, no buildings are shown on
the piece of land on which the replacement building is to be constructed. During the
watching brief on the excavation of the foundation trenches, a possible undated
posthole was found along with a pit filled with early 20th-century domestic rubbish.
It was also observed that a building referred to in the planning permission documents
as being related to Second World War activities was likely to be the remains of a
greenhouse.
Actions (login required)