Webster, Michael (2015) Marsh Lane East, King's Lynn, Norfolk. [Client Report] (Unpublished)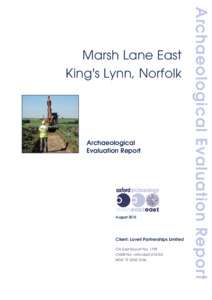 Preview
PDF




Report_1799LR.pdf


Available under License Creative Commons Attribution Share Alike.
Download (1MB) | Preview
Abstract
Between 8th and 11th June 2015, Oxford Archaeology East carried out an archaeological evaluation in advance of a housing development at land north of Marsh Lane, King's Lynn (NGR TF 6352 2166).
Ten trenches were excavated across the eastern half of the site and exposed natural marine silts indicative of a pre-drainage mud flat and salt marsh landscape. A single machine cut sondage was excavated through the silts revealing part of a deeply stratified sequence of Flandrian deposits. Two peat horizons, 0.60m thick, were recorded immediately below the silts, the lower of which was bulk sampled and radiocarbon dated to the Early Iron Age (786 – 537 cal. BC). At the far eastern side of the site the marine silts abutted sands and gravels representing a prehistoric
raised beach shoreline which seems to mark the transition to higher ground east of the site.
With the exception of late 19th century or early 20th century land drains, the only archaeological features exposed in the trenching were three possible pits or tree
throws, all located on the sands and gravels. None of the features yielded finds, and analysis of the soil samples showed them to be largely sterile.
The results suggests that the area evaluated saw limited if any use prior to post-17th century drainage of the surrounding landscape. However, insights have have been gained into the nature, depth and date of the Flandrian deposits in the area, which contributes to a broader understanding of the changing depositional environment of the eastern fen-edge during the Holocene.
Actions (login required)