Bush, Louise (2016) Land South of Horseheath Road, Linton, Cambridgeshire. [Client Report] (Unpublished)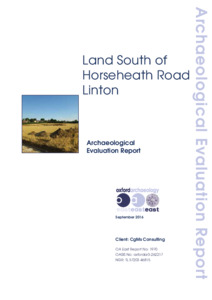 Preview
PDF




Report 1970_Linton_LR.pdf


Available under License Creative Commons Attribution Share Alike.
Download (3MB) | Preview
Abstract
Between the 22nd and 30th of August 2016, Oxford Archaeology East conducted a trial trench evaluation on land to the south of Horseheath Road, Linton, Cambridgeshire (TL 57203 46815). A total of 32 trenches were excavated across the proposed site, 13 of which were targeted upon geophysical survey anomalies. The geophysical survey had identified a ring ditch in the south-eastern corner of the site, along with a small collection of ditches believed to relate to agricultural activity.
The fieldwork confirmed the presence of a Bronze Age barrow on the site. Furthermore, a crouched burial was uncovered in the centre of the barrow. Two further parallel linear geophysical anomalies, interpreted as possible agricultural remains, proved to be the remnants of a Neolithic cursus. A small number of other ditches, not identified in the geophysical survey, were also revealed across the site.
Artefactual remains were dominated by flintworking, with 1,032 pieces of Middle to Late Bronze Age flint being recovered from the central and upper fills of the barrow ditch. Less than 4g of pottery was recovered across the entire site, those sherds which were collected were fragmentary in nature and unlikely to be situated in a contextually secure location. A total 360g of animal bone was also recovered from both Neolithic and Bronze Age contexts. The central burial within the barrow was left in situ, however a fragment of pelvis (9g) was removed on order to clarify that if was of human origin.
Actions (login required)