Webb, Robin (2015) Evaluation of land north of Ramsey Road, Warboys. [Client Report] (Unpublished)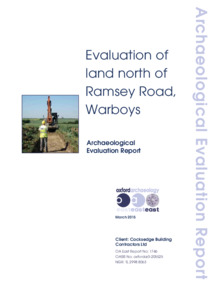 Preview
PDF




Report 1746_LR.pdf


Available under License Creative Commons Attribution Share Alike.
Download (919kB) | Preview
Abstract
An archaeological evaluation was carried out on land to the west of 94 Ramsey Road, Warboys, Cambridgeshire. The work took place as part of investigative fieldwork ahead of the construction of 19 affordable houses, new services and access road. The development site covers an area of approximately 5,450 square metres. Three archaeological trenches each 30 metres by 1.8 metres were positioned to achieve a representative sample of the site. The site area was centred on TL 2998 8063. The fieldwork took place between 09/02/15 and 11/02/15.
The trenches were located in the eastern half of the field in the footprints of the buildings and avoiding modern services near the entrance to the field.
The presence of two small fragments of Roman pottery (one found in a ditch in Trench 3) and one fragment of tile are likely to be the result of manuring. The ditch (in Trench 3) containing a single small sherd of Roman pottery is tentatively interpreted as a Roman cultivation ditch. A second, roughly parallel ditch approximately 16m to the east (in Trench 1) is possibly contemporary but was undated.
Medieval finds from the site include an iron strap end and five small sherds of pottery. Most of the pottery was found as residual in later features and may be the result of manuring. One feature, a large shallow pit in Trench 1, may be medieval in date, based on the presence of three medieval sherds of pottery.
The remaining three ditches are likely to be post-medieval in date. All are aligned approximately east to west. Two are approximately parallel and 14m apart, the third is not quite parallel and would converge if it continued the same alignment to the west of the site.
A single posthole contained one sherd of 18th or 19th century pottery.
Item Type:
Client Report
Uncontrolled Keywords:
archaeological evaluation, cambridgeshire, warboys, roman, medieval, post-medieval, pottery, ditch, manuring, cultivation, agriculture
Subjects:
Geographical Areas > English Counties > Cambridgeshire
Period > UK Periods > Medieval 1066 - 1540 AD
Period > UK Periods > Post Medieval 1540 - 1901 AD
Period > UK Periods > Roman 43 - 410 AD
Divisions:
Oxford Archaeology East
Depositing User:

Chris Faine

Date Deposited:
27 Feb 2017 10:04
Last Modified:
27 Feb 2017 10:04
URI:
http://eprints.oxfordarchaeology.com/id/eprint/3148
Actions (login required)