Moon, Kevin Land off Radley Road Abingdon Oxfordshire. [Client Report] (Unpublished)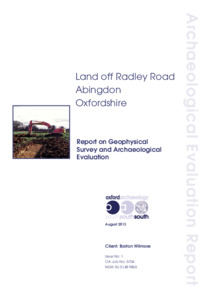 Preview
PDF




ABRD13_pdfA.pdf


Download (27MB) | Preview
Abstract
The site, which is an arable field on the edge of the town of Abingdon owned by
Radley College, has been proposed for housing development, and a predetermination
evaluation was requested by the OCC County Archaeologist.
Accordingly, in August 2013 a geophysical magnetometer survey was carried out on
the site to clarify cropmark evidence that suggested a collection of enclosures
crossing the southern part of the site, and to help target evaluation trenches.
Cropmarks had already indicated a number of large discrete features, including subrectangular
examples that might have been post-Roman, and previous findspots
and cropmarks also indicated later prehistoric activity in the vicinity.
Previous excavation near the south-west corner of the field had exposed ditches
containing Roman pottery and other finds, and had also recorded stone `walls',
possibly suggesting a building, though only an interim summary account of this
excavation had been produced. One of the aims of evaluation was to locate this
excavation more clearly, and to clarify the character and date of the recorded walls.
The geophysical survey provided a more complete view of a system of linked and
sometimes overlapping ditches enclosures, and suggested that there were some
discrete features within them. Evaluation was therefore targeted upon a selection of
the ditches and other anomalies, in order to date the system and its development.
The evaluation confirmed that the results of the geophysical survey were genuine,
and that the enclosures were of Roman date. The earliest Roman pottery was of
early-mid 2nd century date, but most of the activity appeared to belong to the later
Roman period, ie to the 3rd or 4th centuries AD. The range of finds was limited,
giving little indication of varied activity, although the pottery and animal bone,
together with the survival of postholes, deep slots and probable pits, suggests that
there was probably domestic occupation on the site. The `walls' appear to have
been bands of concreted limestone within the natural gravel, and so of natural
origin. Evidence to date therefore suggests a low status rural settlement.
A few struck flints of late Mesolithic or early Neolithic date were also found, but none
in contemporary features. Those at the very south-west edge of the site may
indicate a concentration of activity close to the oval barrow known from cropmarks
60m further south. Roman features were also found here, showing that activity
extended south of the main area of enclosures.The south-east corner of the site did
not however produce any features or finds.
North of the enclosure system the few trenches were largely blank, except for an
undated ditch and a tree-throw hole containing a flint tool and stone rubber at the
very north end of the site.
Actions (login required)