Bush, Louise (2013) Hemingford Grey Primary School. [Client Report] (Unpublished)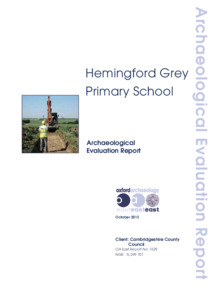 Preview
PDF




report 1529_LR.pdf


Available under License Creative Commons Attribution Share Alike.
Download (7MB) | Preview
Abstract
Between the 13th and 14th August and the 1st to 3rd October 2013 Oxford Archaeology East carried out a series of archaeological works at the Primary School and adjacent field to the west in Hemingford Grey, Cambridgeshire (529812, 270747). The works were ahead of the construction of a new classroom and extension to the playing fields.
Prior to the archaeological works, an aerial photographic survey was undertaken of the site and its immediate environs. This identified a complex series of pits, ditches and a possible barrow in the field adjoining the school. These features were thought to be of Early Bronze Age to Roman in date based on their morphology.
The trial trenching revealed a series of ditches and pits, the majority of which correspond with features identified during the aerial photographic survey. No datable finds were recovered from the ditches, implying that these features are may be pre-Roman in date and serve as agricultural enclosures.
Two large sub-rectangular pits were identified during the trial trenching, one of which contained unabraded sherds of 6th-century Anglo-Saxon pottery, along with animal bone and parts of a 6th-century bone comb. These features have tentatively been interpreted as sunken featured buildings (SFB).
The discovery of Early Saxon remains on the site is of particular interest as it suggests that the crop-marks may have an even more complex and long history than has hitherto been understood.
Actions (login required)