Bashford, Robin Proposed Kitchen Extension, Oriel College, Oxford. [Client Report] (Unpublished)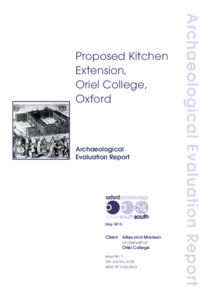 Preview
PDF




OXOCK15_Report.pdf


Download (1MB) | Preview
Abstract
In March 2015, Oxford Archaeology (OA) undertook an archaeological evaluation on
the site of the proposed kitchen extension at Oriel College, Oxford (SP 5165 0612).
The evaluation revealed the top of the gravel terrace which, where encountered was
at a relatively consistent elevation.
The gravel had been truncated by features probably dating to the 12th-14th century
occupation of the site, and perhaps relating to medieval tenements pre-dating the
construction of the medieval Front Quadrangle of the college in the mid-14th
century. The Front Quadrangle was itself re-built in the first half of the 17th century.
A number of structures were revealed which appeared to truncate the 12th-14th
century deposits. The earliest of these may relate to a building fronting Merton
Street, possibly part of St Martins Hall which preceded the 17th century remodelling.
A second structure was revealed running parallel to the eastern boundary wall of the
college along Magpie Lane. Outbuildings are shown in this area of the college on
cartographic sources from the 16th century onwards - although the fact that this
structure appeared to truncate a deposit which produced 17th century artefactual
material would imply that it related to a later phase of construction.
The third structure revealed was the foundation for an extant pillar base which dates
from the 17th century re-build of the Front Quadrangle, and a series of rubble rich
deposits overlying the foundation are probably contemporary with this phase of
construction.
The remaining deposits and structures encountered related to modern reconfigurations
of the kitchen area and former back yard to the west of Magpie Lane.
Actions (login required)