Thatcher, Chris (2015) Middle Iron Age to Roman Settlement at Land West of Cambourne, Cambridgeshire. Project Report. Oxford Archaeology Ltd., Bar Hill. (Unpublished)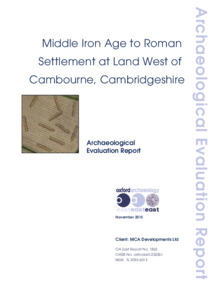 Preview
PDF




CBNWCA14_Evaluation_Report 1862_LR.pdf


Available under License Creative Commons Attribution Share Alike.
Download (5MB) | Preview
Abstract
Between the 17th August and 16th October 2015, Oxford Archaeology East conducted an archaeological evaluation at Land West of Cambourne, Cambridgeshire (TL 3035 6013). The site incorporates arable fields measuring approximately 137 hectares in area.
A total of 148 trenches measuring 50m x 2m were excavated within an area of high archaeological potential to the west of Cambourne with known late prehistoric and Roman settlement located in the immediate vicinity. These revealed a sequence of activity spanning the Middle Iron Age to later Roman periods.
Specifically, up to five areas of settlement were identified (Zones A-E). In the southernmost part of the site (Zone A) up to three Middle Iron Age to Early Roman enclosed sites were recorded on the higher ground. Further to the south in Zone A were a number of Roman features, including a very substantial ditch and metalled surface. These may represent a continuation of the Roman activity to the south, recorded by the excavations at North Caxton Bypass.
The activity recorded in Zone B was the longest lived of any of the sites recorded in the evaluation, spanning the Middle Iron Age (c. 350-100BC) to the mid-2nd to 3rd centuries AD, and peaking in the mid-1st-mid 2nd century AD. It comprised a discrete, enclosed settlement, typical in form, character and finds assemblages of relatively low status farming settlements recorded across the western claylands of Cambridgeshire. The degree of preservation within this site was however particularly high, especially given the relatively thin layer of overburden sealing the deposits with evidence for metalled surfaces, middens, very large ditched boundaries, structural remains in the form of roundhouses and possible timber built structures all recorded here.
Zone C was a much smaller area of activity located to the west of Zone B. It comprised an isolated group of features, of which the most significant was a large amorphous cut that has been initially interpreted as a waterhole.
Zone D, which lay in the north-western part of the site was dated between the Middle Iron Age and Early Roman period, with a peak in activity between AD30-60. It was characterised by mixed activity, the earliest of which may have been funerary in nature. Evidence for craft industrial practises were also recorded within a core of settlement focussed around Trenches 41-45. As in Zone B, the main enclosure ditches were very large and the settlement activity was dense near its core.
Zone E was located to the south of Zone D. The remains encountered in this Zone bore out the preceding non intrusive surveys, successfully identifying what appeared to be a ring gully within a sub-square enclosure. The finds density within this Zone was low with only a small assemblage of pottery, dating to AD30-60. Given the similar date range with that of Zone D it is therefore suggested that this site may have been an outlier of the larger settlement to the north.
Item Type:
Monograph (Project Report)
Uncontrolled Keywords:
archaeological evaluation, cambridgeshire, cambourne, settlement, roman, iron age, late iron age, middle iron age, pottery, enclosure, roundhouse, caxton by-pass, loomweight
Subjects:
Geographical Areas > English Counties > Cambridgeshire
Period > UK Periods > Iron Age 800 BC - 43 AD
Period > UK Periods > Iron Age 800 BC - 43 AD > Late Iron Age 100 BC - 43 AD
Period > UK Periods > Iron Age 800 BC - 43 AD > Middle Iron Age 400 - 100 BC
Period > UK Periods > Roman 43 - 410 AD
Depositing User:

Chris Faine

Date Deposited:
07 Mar 2017 07:50
Last Modified:
07 Mar 2017 07:50
URI:
http://eprints.oxfordarchaeology.com/id/eprint/3159
Actions (login required)