Boothroyd, John and Thacker, Gerry and Gorniak, Mariusz 1. Polar Technology,Eynsham,Oxfordshire, Evaluation 2. Polar Technology,Eynsham,Geotechnical,Test Pits Watching brief 3. Eynsham Polar Technology: Inundation Test Pits Watching Brief. [Client Report] (Unpublished)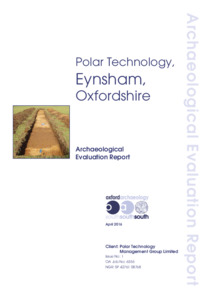 Preview
PDF




EYPO16.pdf


Download (5MB) | Preview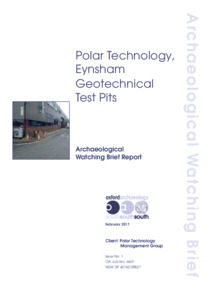 Preview
PDF




EYPOTE16_PdfA.pdf


Download (6MB) | Preview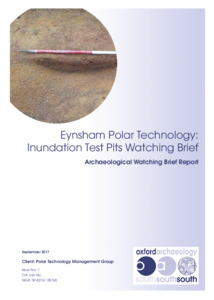 Preview
PDF




EYPOTE17.pdf


Download (5MB) | Preview
Abstract
1. During the latter part of March and early April 2016 Oxford Archaeology undertook a
trial trench evaluation ahead of the submission of a planning application on land to
the south of Eynsham, Oxfordshire, centred on NGR 442762 208827. The southern
part of the site falls within an area designated as a Scheduled Ancient Monument.
The evaluation comprised 20 trenches targeted on both geophysical anomalies and
cropmarks, and also to test potential blank areas.
Within the northern and central part of the site several undated ditches were
identified, as well as a flat based pit which contained pottery of 5th-7th century date,
and could represent a sunken featured building. Within the scheduled area a pit
containing struck flint, pottery, animal bone and charred hazel nut shells is likely to
be of early Neolithic date. Other ditches present were of probable Roman and postmedieval
date, although very little datable material was recovered.
2.Oxford Archaeology were commissioned by Polar Technology Management Group
to monitor the excavation of geotechnical test pits in advance of the construction of
proposed manufacturing buildings and an associated access route. The southern
portion of the site falls within the boundary of a Scheduled Ancient Monument, and
the current work fell beyond the scheduled area. A previous archaeological trial
trench evaluation identified remains dating from the Neolithic to Anglo-Saxon
periods, both within, and continuing beyond the limits of the scheduled area. Three
test pits situated along the route of a former railway line were monitored in January
2016. The test pits identified no archaeological deposits and demonstrated that the
underlying geology had been truncated by the construction of both a former railway
line and the current 20th century buildings.
3. On the 19th July 2017 Oxford Archaeology monitored the excavation of three test
pits ahead of water infiltration testing. A fourth proposed test pit could not be opened
due to access issues. A single undated pit was recorded within Test Pit 2. The
remaining test pits were devoid of archaeological features or remains
Actions (login required)