Fletcher, Taleyna (2014) Former Medical Centre, RAF Upwood, Bury, Cambridgeshire. [Client Report] (Unpublished)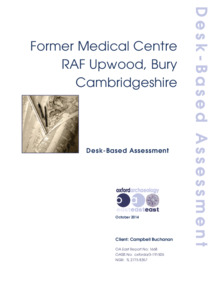 Preview
PDF




UPRUPR14_Report1668_LR.pdf


Available under License Creative Commons Attribution Share Alike.
Download (4MB) | Preview
Abstract
In late September 2014 Oxford Archaeology East (OA East) were commissioned by Campbell Buchanan to undertake a desk-based assessment for an area of land occupied by the former medical centre at RAF Upwood, just outside of Bury, Cambridgeshire. The aim of this report is to assess the presence, nature and extent of any heritage assets likely to be affected by the proposed site development.
The site comprises the former Upwood Clinic previously occupied by the Ministry of Defence (MoD). The building was constructed in 1986 and operated by the United States Air Force to provide medical services for service personnel and their families. The site includes a large car park area to the immediate north. The current proposal is for residential development of the site comprising new homes, access roads and associated services.
Cartographic sources were only available from the early 19th century onwards, which indicate that the site has not been occupied or developed in any way since that time. Although the late 19th century maps depict small boundary changes following enclosure, no significant change in land use or development is in evidence. Prior to the construction of the medical centre and car park in 1986, the site was in use as a sports ground, however there is no evidence to suggest the site was in use prior to this and therefore the only below ground impact is likely to be from footings and services associated with the current building which occupies the southern half of the development site.
A study of Cambridgeshire's Historic Environment Record, which considers the distribution of known finds, listed buildings and archaeological investigations, indicates that a small number of archaeological interventions have taken place within a 1km radius of the site. Investigations 600m to the east at Owl's End have revealed remains from the Neolithic, Iron Age, Roman, Saxon, early medieval and post-medieval periods. The presence of an Iron Age/Early Roman and Saxon/early medieval settlement within the search area is of interest, and further investigations 175m to the immediate north and 150m to the south-east have recorded what may be remnants of a larger Roman agricultural system.
This assessment of the distribution of CHER records, cartographic evidence and historic background in the vicinity of the site indicates that it has a low to moderate potential for the survival of archaeological remains, especially given the site's position close to known investigations.
Actions (login required)