Blackbourn, Kathryn (2017) Medieval Remains on Land West of Church Road, Brandon, Suffolk. [Client Report] (Unpublished)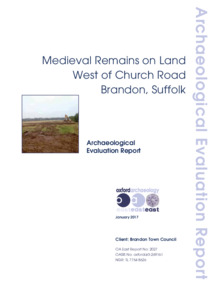 Preview
PDF




XSFBRA16_REPORT_lr.pdf


Available under License Creative Commons Attribution Share Alike.
Download (1MB) | Preview
Abstract
Oxford Archaeology East undertook an archaeological evaluation between the 12th and 15th of December 2016 on land west of Church Road, Brandon, Suffolk (centred TL 7754 8626). A total of seven 25m long trenches were excavated in an area immediately north of a site previously evaluated in 2013 by Oxford Archaeology East (BRD 227). Here, ditches and settlement-related features dating to the Late Saxon and medieval periods were investigated.
A total of 31 ditches were identified in the trenches. Four ditch alignments were recorded, many of which are the continuation of boundaries previously uncovered in the evaluation to the south. Two of the ditch alignments (west north-west to east south-east and north north-east to south south-west) were present across all of the trenches; these are likely to date to the medieval period. Towards the eastern end of the site, a small number of ditches on east north-east to west south-west alignments were revealed. Ditches on this alignment were also recorded in the south-west part of the area investigated during the 2013 evaluation. North to south aligned ditches were also noted in three of the trenches. These represent a continuation of the late medieval rectilinear field system identified to the south.
A small number of pits were uncovered across the site. Environmental sampling of these features produced charred remains of cereal grains, typical of the medieval period. Overall, very few finds were recovered from features. Bone was poorly preserved in the sandy soils, and only six sherds of pottery, dating both to the Roman and medieval period, were recovered. This represents a small finds assemblage compared to that from the 2013 evaluation, suggesting that this area was located towards the periphery of the main settlement zone, which lay closer to the roadside to the south.
Actions (login required)