Rees, Gareth (2016) A 1st century AD archaeological sequence at the site of the new lift shaft, Shire Hall, Cambridge: PXA and UPD. [Client Report] (Unpublished)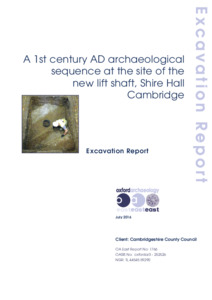 Preview
PDF




CAMSHL15_PXA_1766_LR.pdf


Available under License Creative Commons Attribution Share Alike.
Download (18MB) | Preview
Abstract
Between the 8th and the 15th April 2015 Oxford Archaeology East carried out an archaeological excavation in advance of the construction of a pit for a new lift shaft in the basement of Shire Hall, Castle Hill, Cambridge (Figure 1; TL 44545 59290).
The trench, measuring 2.54m wide by 3.10m long, was surrounded on all sides by the foundation trenches for existing walls in Shire Hall leaving a total undisturbed area of 4m2 to be investigated.
Archaeology was present up to 1.78m below the modern basement floor level and 3.21m below the current street level. All of the deposits uncovered under the upper construction layers dated to the early to middle first century AD, with the exception of a single undated ditch at the base of the sequence which may have been earlier. Three ditches, each aligned from north-east to south-west, appear to line up with the corner of a Claudian enclosure recorded in 1935 during the construction of Shire Hall. The archaeology uncovered during these excavations was associated with occupation dating to the middle 1st century AD.
The earliest remains were those of two ditches both of which were truncated by a substantial boundary ditch. The latter was probably a re-cut of the earlier boundaries and it was in to this that all subsequent deposits were laid.
After substantial infilling this ditch was partially cleaned and a gravel surface was laid to the north-west indicating that occupation was taking place on this side of it. Another period of in-filling was followed by further cleaning, and surfaces were laid to the north-west. These surfaces were overlain by occupation deposits including pottery, animal bone, charred weed seeds and cereal grains, spilling in to the ditch. Two brooches dating to the 1st half of the 1st century AD were also recovered from these deposits. During the third phase of activity a thick clay surface was laid across the ditch indicating that the boundary was no longer in use; occupation deposits, including spelt and emmer wheat, marine shells and freshwater fish bones continued to accumulate here. During the final phase of occupation a gravel surface was laid over the infill from the south-east indicating that the settlement had spread outside of the original confines of the enclosure.
Item Type:
Client Report
Uncontrolled Keywords:
archaeological excavation, excavation, Excavation, Cambridgeshire, Cambridge, cambridgeshire, cambridge, Shire Hall, shire hall, Roman Cambridge, roman cambridge, Roman, roman, Claudian, claudian, basement excavation, ditch, surface, pottery, Roman pottery, roman pottery, pot, sherd, vessel, brooch, environmental remains, ecofact, ecofacts, Cambridgeshire, County Council, CCC, ccc, cambridgeshire county council, 1766, report 1766, Report 1766, OAE report 1766
Subjects:
Geographical Areas > English Counties > Cambridgeshire
Period > UK Periods > Roman 43 - 410 AD
Divisions:
Oxford Archaeology East
Depositing User:

Chris Faine

Date Deposited:
27 Mar 2017 09:01
Last Modified:
22 May 2019 10:22
URI:
http://eprints.oxfordarchaeology.com/id/eprint/3177
Actions (login required)