Cox, Nicholas and Clarke, Rachel (2017) Medieval Settlement Remains on the Biddenham Loop Reinforcement Water Main: PXA and UPD. [Client Report] (Unpublished)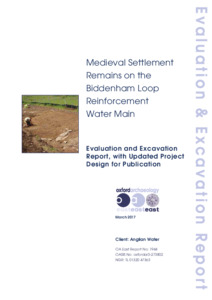 Preview
PDF




Report 1944_LR.pdf


Available under License Creative Commons Attribution Share Alike.
Download (2MB) | Preview
Abstract
Between 17th May and 8th June 2016 Oxford Archaeology East (OA East) carried out an excavation on part of the route of the Biddenham Loop Phase 2a Reinforcement Water Main. The excavation, which targeted remains identified by an evaluation, was carried out on an area of 520sqm within the easement of the water main.
The earliest phases of activity were represented by a single posthole of possible prehistoric date and a small group of truncated Late Saxon pits. Overlying these were the remains of at least three medieval buildings on a north-east to south-west alignment, the earliest of which was of timber construction. This was replaced by a more substantial rectangular building with stone foundations: internal features include an area of paved floor, a partition wall and a hearth, while a cobbled pathway led from a doorway on the northern side of the building. To the south of this was another, smaller building also with stone foundations but with no surviving internal features, while to the north-east was a separate kitchen containing at least three ovens, one of which produced a single silver coin dated to c.1278-1280 AD. Boundary ditches lay to the north of the kitchen. The foundations, particularly those of Building 3, had been comprehensively robbed and demolition deposits sealed these remains, from which a collection of pottery spanning the Late Saxon to late medieval periods was recovered.
This group of buildings and associated features represent the continuation of Late Saxon and medieval settlement remains revealed beneath the Bedford Western Bypass and around The Bury, extending to the east. The presence of buildings with stone foundations and a detached kitchen possibly forming part of a courtyard range suggests that this settlement may have been of some status, perhaps associated with one of Kempston's three documented manors.
Item Type:
Client Report
Uncontrolled Keywords:
archaeological evaluation, archaeological excavation, bedfordshire, biddenham, saxon, late saxon, medieval, structure, pottery, medieval pottery, coin, oven, building, 13th cenutry, kempston, manor
Subjects:
Geographical Areas > English Counties > Bedfordshire
Period > UK Periods > Early Medieval 410 - 1066 AD
Period > UK Periods > Medieval 1066 - 1540 AD
Divisions:
Oxford Archaeology East
Depositing User:

Chris Faine

Date Deposited:
29 Mar 2017 12:21
Last Modified:
29 Mar 2017 12:21
URI:
http://eprints.oxfordarchaeology.com/id/eprint/3178
Actions (login required)