Rees, Gareth (2017) Medieval settlement adjacent to the St Mary Magdalene Chapel (Leper Chapel), Newmarket Road, Cambridge. [Client Report] (Unpublished)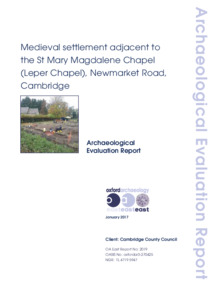 Preview
PDF




Report 2019_LR.pdf


Available under License Creative Commons Attribution Share Alike.
Download (1MB) | Preview
Abstract
Between the 10th and 14th November 2016 Oxford Archaeology East carried out an archaeological evaluation on land adjacent to the St Mary Magdalene Chapel (aka The Leper Chapel) on Newmarket Road, Cambridge (TL 4719 5947). The chapel had served the medieval leper hospital known to have been located in this area in the medieval period.
Geophysical resistivity and ground penetrating radar (G.P.R.) survey (Masters 2016) was carried out on the field in April 2016. A series of linear high resistance anomalies, thought to indicate the location of walls, were recorded. Low resistance anomalies were recorded at the south of the site and these were thought to indicate pits or possibly graves.
A total of six trenches (total 67.5m2) were excavated in advance of a proposed planning application for part of the Chisholm Way cycle path which is due to pass through this field and under Newmarket Road. All of the trenches were targeted on anomalies recorded by the geophysical survey. Two of the trenches (5 and 6) were located in the vicinity of the proposed footing of the new development whilst a further 4 trenches (1 to 4) were opened in order to investigate specific geophysical anomalies and to provide activities for a community archaeology project which ran alongside the evaluation.
Archaeological remains were uncovered in all of the trenches. The high resistance geophysical anomaly to the north was interpreted as a wall footing or limestone track (Trench 1; https://skfb.ly/WpTK password:CAMLEP16) running from the northern boundary of the churchyard towards the brook to the east. A single small pit or posthole, containing pottery dating to the medieval period, was uncovered in Trench 2, whilst a boundary ditch was uncovered in Trench 3.
A thick layer of soil, over 1m deep in places, was uncovered in trenches 3, 4, 5 and 6. This subsoil layer was interpreted as a buried soil built up from agricultural use, sporadic flooding and deposition of domestic refuse in the front half of the plot facing Newmarket Road. Pottery recovered from this layer indicated that it had built up throughout the medieval period potentially stabilising by the post-medieval period. Two sub-rectangular mortar, gravel and stone footings were uncovered in this layer in Trench 5, whilst an early medieval ditch and two postholes were uncovered below it in Trench 6.
The majority of the finds, including a silver coin of Edward III, dated to the medieval period between the 11th and 16th centuries when the site was known to lie close to both the Leper Hospital and the site of the Stourbridge Fair.
Item Type:
Client Report
Uncontrolled Keywords:
archaeological evaluation, cambridgeshire, cambridge, st mary madgelene, chapel, leper, stourbridge, fair, medieval, coin, edward III, post-medieval, geophysics, community, outreach, YAC
Subjects:
Geographical Areas > English Counties > Cambridgeshire
Period > UK Periods > Medieval 1066 - 1540 AD
Period > UK Periods > Post Medieval 1540 - 1901 AD
Divisions:
Oxford Archaeology East
Depositing User:

Chris Faine

Date Deposited:
04 Apr 2017 10:25
Last Modified:
04 Apr 2017 10:25
URI:
http://eprints.oxfordarchaeology.com/id/eprint/3179
Actions (login required)