Haskins, Anthony (2014) Hinchingbrooke Hospital Car Park, Huntingdon, Cambridgeshire. [Client Report] (Unpublished)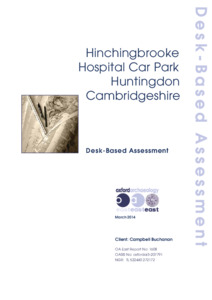 Preview
PDF




STUHIH14_Report_1608_LR.pdf


Available under License Creative Commons Attribution Share Alike.
Download (3MB) | Preview
Abstract
Oxford Archaeology East has been commissioned by Campbell Buchanan to produce a Desk Based Assessment for the Hinchingbrooke Hospital Car Park site, Huntingdon, Cambridgeshire. This report covers the assessment and a prediction of the archaeological potential of the site.
A small amount of Late Neolithic and Early Bronze Age archaeology has previously been identified in the study area. An archaeological evaluation has been carried out in the northern part of the car park itself in which identified a series of medieval plough furrows and modern disturbance of the archaeological horizon.
The main emphasis of the area seems to be the land adjacent to the proposed development at the New School sites and further away at Bob's Wood, where significant Middle to Late Iron Age and Romano-British occupational deposits, buildings, in particular a possible Villa building, and features were uncovered in a series of excavations from the early 2000's. Other work in the area has added further evidence for an extensive Middle Iron age to Romano-British settlement.
A small amount of Medieval archaeology has also been identified primarily ridge and furrow truncating the earlier Iron Age and Romano-British deposits and a Post-Medieval farm house, Hinchingbrooke Farm, which was located in the proposed development area until it was demolished in the late 1970's/early 1980's.
This spread of evidence from within the local vicinity indicates that this is an area of high archaeological significant and suggests there is a moderate to high chance of surviving archaeological features and deposits of Iron Age, Roman and Medieval date. Residual Late Neolithic and Bronze Age material has been found in the study area. Earlier prehistoric activity (from the Palaeolithic to the Early Neolithic) and Saxon archaeological features and deposits have not been previously been identified within study area but their presence cannot be totally ruled out.
Actions (login required)