Stocks-Morgan, Helen (2015) Hinchingbrooke Hospital, Hinchingbrooke, Huntingdon. [Client Report] (Unpublished)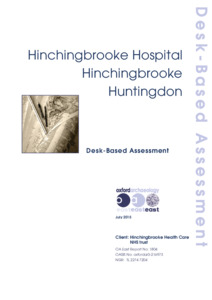 Preview
PDF




STUHIH15_Report_1804_HR.pdf


Available under License Creative Commons Attribution Share Alike.
Download (34MB) | Preview
Abstract
In July 2015 Oxford Archaeology East (OA East) was commissioned by Hinchingbrooke Health Care NHS Trust to undertake a desk-based assessment for land at Hinchingbrooke hospital, just outside of Huntingdon, Huntingdonshire (TL 2274 7204). The aim of this report is to assess the presence, nature and extent of any heritage assets likely to be affected by the proposed site development.
The site is largely within the grounds of Hinchingbrooke hospital, which comprises a main hospital building and associated buildings. The proposed development is for the expansion of health care provision, remodelling of the car parking area along with the construction of residential apartments for workers.
A study of Cambridgeshire's Historic Environment Record, which considers the distribution of known finds, listed buildings and archaeological investigations, indicates that a small number of archaeological interventions have taken place within a 0.5km radius of the site. Significant Iron Age and Roman settlements are located to the west of the site at Christie Avenue and Bob's wood. The further presence of Prehistoric and Iron Age ditches in the sports ground to the east suggests that these settlement remains may extend across the site.
The earliest cartographic evidence for the site dates to the mid 19th century. This shows that the site lies within the Hinchingbrooke estate, with Hinchingbrooke Farmhouse located to the west of the site.
This assessment of the distribution of CHER records, cartographic evidence and historic records in the vicinity of the site indicates that it has a moderate potential for the survival of archaeological remains, especially given the site's position close to known archaeological assets.
Actions (login required)