Atkins, Robert (2013) Medieval to modern remains at 9-15 Harvest Way, Barnwell, Cambridge. [Client Report] (Unpublished)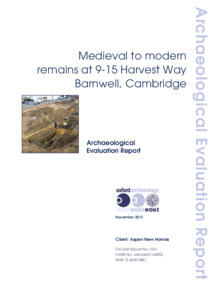 Preview
PDF




CAMEAG13_report 1551_LR.pdf


Available under License Creative Commons Attribution Share Alike.
Download (1MB) | Preview
Abstract
Archaeological evaluation at 9-15 Harvest Way, Barnwell, Cambridge (TL 4635 5887) comprised monitoring the removal of the slab of demolished industrial units and the excavation of six archaeological trenches. The work took place between 28th October and 11th November 2013. The site is located within the medieval settlement of Barnwell which was associated with Barnwell Priory. The trenches were positioned to assess the extent of archaeological survival across the site: three trenches were placed along the northern side of the site adjacent to Newmarket Road and closes to the Priory grounds, two were located in the middle of the site and one at the southern extent fronting onto Harvest Way which is thought to have been a back lane during the medieval period. The trenches provided c.5% sample of deposits within the site.
Survival of archaeological deposits was found to be good across the site. Medieval to modern features survived in all six trenches with only a minimal amount of truncation visible. Successive uses of the site have largely built on top of and not through earlier deposits leaving a well stratified and complex site. Evidence for Medieval structures in the form of post holes was found adjacent to the present Newmarket Rd (Trenches 1, 2 and 3) and Harvest Way (Trench 6) frontages and it is likely that re-constructable plans of buildings will survive here. The potential for good survival of structures is also true of the post-medieval period; for example post holes were found in Trenches 1 and 6, and in Trench 2 clunch (chalk) building foundations were found associated with clay floors. In addition the remains of 19th century brick buildings were found in all trenches except one and there was also part of brick structure with an associated external cobbled courtyard found in Trench 4.
A plethora of medieval, post-medieval and 19th century pits and wells, some of them of substantial size were found across the site. There was also clear evidence for surviving post-medieval and Victorian layers, and it is likely that some of the earlier (currently undated) layers will prove to be medieval.
In brief there is clearly a well preserved, densely occupied settlement here dating from at least as early as the building of Barnwell Priory near this location in the early 12th century and continuing into the 16th century. There may have been a reduction in activity/occupation in the immediate post-Dissolution period but by the c. late 17th century the land was once again being heavily utilised and the density of occupation continued to increase such that in the 19th century the site was covered with a mass of buildings that were recorded in documents and maps as slums. The site's most recent history housing a c.1968 factory complex has had little impact on earlier remains as its foundations were relatively shallow and have only penetrated deeply in isolated areas.
Overall the evaluation has demonstrated that there is excellent potential for survival of large artefact assemblages of a wide range of types as well as faunal and plant remains. Excavations to the east inform us that there will be good waterlogged environmental remains within wells in the site. Documentary and map evidence is particularly good from c. AD 1800 and it should be possible to identify later archaeological remains using these documents.
Item Type:
Client Report
Uncontrolled Keywords:
archaeological evaluation, cambridgeshire, cambridge, barnwell, eastern gate, harvest way, medieval, post-medieval, modern, pottery, 19th century, clunch foundations, building foundations, well, pits, animal remains, barnwell priory, newmarket road
Subjects:
Geographical Areas > English Counties > Cambridgeshire
Period > UK Periods > Medieval 1066 - 1540 AD
Period > UK Periods > Modern 1901 - present
Period > UK Periods > Post Medieval 1540 - 1901 AD
Divisions:
Oxford Archaeology East
Depositing User:

Chris Faine

Date Deposited:
18 Apr 2017 12:49
Last Modified:
18 Apr 2017 12:49
URI:
http://eprints.oxfordarchaeology.com/id/eprint/3189
Actions (login required)