Fletcher, Taleyna (2009) Post Medieval Buildings Associated with the Crown and Dolphin Inn at the rear of 4 Kneesworth Street, Royston, Hertfordshire. [Client Report] (Unpublished)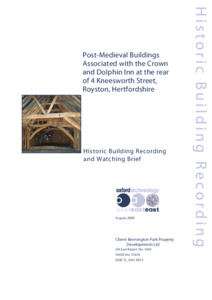 Preview
PDF




Report1043_final_LR.pdf


Available under License Creative Commons Attribution Share Alike.
Download (5MB) | Preview
Abstract
Oxford Archaeology East (formally CAM ARC) was commissioned by Gerard Design Associates to undertake the archaeological building recording of two structures in the historic town of Royston, Hertfordshire. The work took place in July 2008 and was carried out in accordance with a Brief issued by Andy Instone of Hertfordshire County Council Historic Environment Unit and a Specification prepared by CAM ARC (Gane 2008).
This was the second phase of work to be undertaken on the two structures following the removal of all modern internal panelling, flooring and sub-division. This phase of work together with more documentary research has enabled a reassessment of the original report (Muldowney 2007) and new interpretation of the buildings dates, development and construction.

The two timber-framed and weather-boarded barns (Structures A and B) which were under investigation appear to be associated with the Crown and Dolphin Inn which faced onto Kneesworth Street and was first referenced in 1537. The Inn is known to have run a coach and wagon service to London in 1750 and evidence recorded within Structure B in particular indicates use as a coaching stable/barn. Stylistically, both buildings date to c16th to 17th century, although both have undergone structural alteration, in the 19th and 20th centuries in particular.
Structure A retains elements of its original construction and 19th century cartographic sources suggest it was originally longer. It is difficult to determine its original function, although it is likely that it was once another auxiliary to the Crown and Dolphin Inn. Despite alteration and conversion into retail premises, Structure B retains much of its original fabric, and the timber-frame provides clues regarding its development and use.
By the 20th century Structure B had become a garage and later, with Structure A, the location of a retail business.
Both buildings suggest evidence of re-use of material possibly from earlier buildings on or near to the site, such as the Palace of King James I which occupied most of this area of the town in the early 17th century.
The brief also required an archaeological watching brief to take place during subsequent groundworks on the site. Seven test pits were excavated under archaeological supervision and fully recorded which in most cases revealed brick and rubble foundations. A well containing post-medieval pottery in the top appeared as a void in the courtyard area, was also investigated. This well did not appear on the earliest Ordnance Survey map (1898) and may therefore be much earlier in date, possibly providing a water supply to the inn and outbuildings.
Actions (login required)