Clarke, Graeme (2016) Land off St Michael's Way, Wenhaston with Mells Hamlet, Suffolk: PXA and UPD. [Client Report] (Unpublished)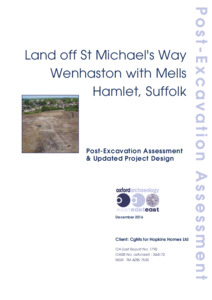 Preview
PDF




XSFWSM15_R1792_LR.pdf


Available under License Creative Commons Attribution Share Alike.
Download (4MB) | Preview
Abstract
Between the 8th April and 28th May 2015 Oxford Archaeology East (OA East) carried out excavations at Land off St Michael's Way, Wenhaston with Mells Hamlet. A full excavation was carried out of the 1.5 hectare proposed development area.
An archaeological evaluation of the site was conducted by NPS Archaeology in 2013 that identified significant Roman archaeological remains including possible 'dark earth' deposits in the eastern part of the site.
The excavation demonstrated the presence of significant Roman settlement remains, previously indicated by the substantial metalwork and other surface find assemblages recovered from the surrounding fields. Many Roman metalwork artefacts were recovered from the excavation of the overlying topsoil and subsoil, and the tertiary fill of a palaeochannel leading towards the valley of the River Blyth from a spring. The coin assemblage was indicative of special deposition rather than casual loss and the range of other metalwork artefacts recovered, that includes a relatively large number of brooches and a miniature votive sword, may further indicate the presence of a possible shrine/sanctuary in the close vicinity.
The settlement remains appear to predominantly belong to the 2nd and first half of the 3rd centuries AD but spans the Early-Middle Roman periods (c.AD43-300). A regular system of ditched plot boundaries ran across the higher/flatter ground in the western part of the site. The central part of the site revealed settlement remains focussed on a spring, with palaeochannel deposits found to equate the 'dark earth' deposits encountered in the evaluation. An enclosure and two further ditched boundaries were revealed around a set of large pits, probably representing wells, and a watering-hole sunk into the perched water-table of the spring. Three post-built structures were also revealed across the site, along with further pitting activity.
Further excavation was undertaken of the waterlogged deposits within the wells and watering-hole between the 23rd November and 4th December 2015. These excavations revealed timber well lining preserved at the base of one well and deposits of preserved timbers at the base of a further well. In addition, pottery recovered from the base of these two wells displays a couple of examples of graffiti (Chi-Rho and swastika symbols) indicative of some form of votive offering, possibly with Christian connections.
The remains encountered in this excavation are of local and regional significance with the potential early Christian graffiti being of possible national significance. The findings of this investigation provide a context for the substantial artefact scatters found in the surrounding fields and provide an important insight into the chronology and evolution of the Roman settlement of Wenhaston.
Item Type:
Client Report
Uncontrolled Keywords:
archaeological excavation, suffolk, suffolk coastal, wenhaston with mells hamlet, wenhaston, roman, roman pottery, samian, terra sigillata, brooch, crossbow brooch, votive, shrine, settlement, boundary ditch
Subjects:
Geographical Areas > English Counties > Suffolk
Period > UK Periods > Early Medieval 410 - 1066 AD
Period > UK Periods > Roman 43 - 410 AD
Divisions:
Oxford Archaeology East
Depositing User:

Chris Faine

Date Deposited:
10 May 2017 12:58
Last Modified:
10 May 2017 12:58
URI:
http://eprints.oxfordarchaeology.com/id/eprint/3200
Actions (login required)