Moan, Patrick (2017) Romano-British Industrial Activity at Norman Way Industrial Estate, Over, Cambridgeshire. [Client Report] (Unpublished)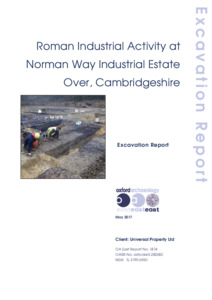 Preview
PDF




OVEINE14_Excavation_Report_1874_FINAL_LR.pdf


Available under License Creative Commons Attribution Share Alike.
Download (2MB) | Preview
Abstract
During November and December 2014, Oxford Archaeology East (OA East) carried out an archaeological excavation on 0.3ha of land at Norman Way Industrial Estate, Over, Cambridgeshire (TL 3790 6930). Iron Age activity was located in the southern half of the site in the form of two ditches, presumably forming part of a field system. After this period, relatively dense Roman archaeological activity was recorded in the north area of the site, where numerous sub-circular pits, a possible tank relating to brewing, a number of boundary ditches and two watering holes were excavated. The features relating to this period all had extensive amounts of crop processing waste in their backfills. These backfills comprised dark organic material, with large quantities of charred grain and chaff recovered from environmental samples. The fact that a significant number of the pits were intercutting and often shared the same backfill suggests intensive activity over a short period of time, where features were dug and backfilled in quick succession. These features are probably industrial activities undertaken as part of a larger settlement complex located to the north-east of the excavation area, where cropmarks of a presumed Roman settlement are known.
No significant post-Roman archaeology was found. Medieval or post-medieval furrows on a north-north-east to south-south-west alignment were recorded across site, along with post-medieval plough scarring.
A moderate finds assemblage was recovered from the excavation, including pottery dating from mid 1st through to the 4th century AD and a number of quern fragments. Other finds include two Roman coins, two pins (one bone, the other copper), a moderate amount of slag and a small assemblage of animal bone.
Environmental remains prove to be excellent, with a large quantity of charred chaff and spelt grain being recovered from the flots. Much of the charred grain shows evidence of germination – indicative of malting the grain for brewing. It is possible malting was taking place on site or in the near vicinity, and any waste from this process was being used a fuel source for other industrial activities nearby. Environmental evidence of this quality and scale is rarely seen in the archaeological record, and may be nationally significant evidence of a settlement focused on the cultivation and malting of spelt wheat on an industrial scale, the waste of which was used as fuel for other industrial activities.
The environmental and pottery assemblages are both similar to those recovered from Langdale Hale and The Camp Ground, excavated at Colne Fen near Earith, suggesting a possible economic link between the settlements.
Actions (login required)