Blackbourn, Kathryn (2016) Prehistoric occupation, field systems and Roman cremations at Honingham Thorpe Farms, Norfolk. [Client Report] (Unpublished)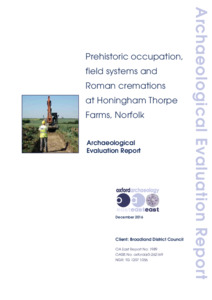 Preview
PDF




Report 1989_LR.pdf


Available under License Creative Commons Attribution Share Alike.
Download (4MB) | Preview
Abstract
From the 10th to the 28th of October 2016, Oxford Archaeology East undertook a trial trench evaluation over c. 18ha of agricultural land at Honingham Thorpe Farms, Honingham, Norfolk (TG 1207 1056). The evaluation comprised the excavation of 63 50m long trenches, and revealed extensive, if somewhat dispersed archaeology comprising mainly ditches, but also pits, post-holes and two cremations scattered across the entire site.
The earliest evidence for occupation dates to the Neolithic period. Flint work from the period was recovered from a range of features across the site, most of which was residual. However, two significant concentrations of Neolithic activity were identified, with 69 sherds of Early Neolithic pottery retrieved from features in Trenches 33 and 34 towards the centre of the site, together with pits yielding groups of Neolithic flint work in Trench 49 toward the south-east comer of the site. Evidence for Early Iron Age occupation was also revealed, with a small number of dispersed and seemingly isolated pits and post-holes recorded across the site.
More importantly, the evaluation revealed two extensive coaxial field systems, both possibly of prehistoric origin. The first comprised ditched boundaries on a north-west to south-east/north-east to south-west alignment. These correspond with the axis of linear cropmarks on and to the east of the site, which were previously thought to be Roman in date. Significantly, the results of this evaluation throw this interpretation/dating into question.
The second field system was on a north to south/east to west axis, and had not been identified by aerial photography and geophysical survey prior to trenching. The field system was aligned in respect to the wider topography of the Tudd Valley, with ditches running down slope toward the river. Although finds were extremely sparse, a crucial piece of dating evidence was recovered from the lower fills of one of the ditches: a complete Late Iron Age-type brooch possibly dating as early as the early 1st century BC. Closely datable finds from such contexts are extremely rare, and this artefact is important for anchoring the chronology of the field system, interpreted as being later than the field system on a north-west to south-east/north-east to south-west alignment.
Two truncated cremations were also revealed in Trenches 46 and 61 towards the eastern side of the site. That from Trench 61 is securely dated to the Early Roman period, and was accompanied by four iron nails and sherds belonging to a small, broken and incomplete grey ware beaker, likely to have been locally produced c. 75-95 AD. It is uncertain whether these represent isolated cremations or were parts of small cemeteries. The environmental potential on site was poor, with no animal bone being present due to acidic soil conditions.
Item Type:
Client Report
Uncontrolled Keywords:
archaeological evaluation, norfolk, broadland, honingham, geophysics, geophysical survey, magnetometry, magnetometer, neolithic, iron age, roman, cremation, roman cremation, co-axial field system, field system, worked flint, pottery, cremation urn
Subjects:
Geographical Areas > English Counties > Norfolk
Period > UK Periods > Iron Age 800 BC - 43 AD
Period > UK Periods > Neolithic 4000 - 2200 BC
Period > UK Periods > Roman 43 - 410 AD
Divisions:
Oxford Archaeology East
Depositing User:

Chris Faine

Date Deposited:
01 Jun 2017 07:18
Last Modified:
01 Jun 2017 07:18
URI:
http://eprints.oxfordarchaeology.com/id/eprint/3221
Actions (login required)