Wenban-Smith, Frances Northfleet West Substation Remediation Works, Southfleet Road, Swanscombe, Kent. [Client Report] (Unpublished)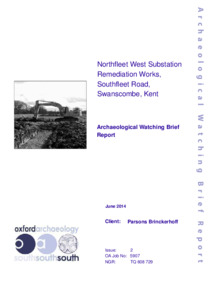 Preview
PDF




NFREME14_PdfA.pdf


Download (2MB) | Preview
Abstract
An archaeological Watching Brief was carried out during remediation work in the 400kV
compound at Northfleet West Substation. No archaeological remains were found.
Made-ground was seen down to at least 1.30m below the present ground surface at
Area 4 and Interceptor D. A deep sequence of colluvial deposits, predominantly finegrained
but gravelly at their base, was seen at the location of Interceptor E in the
south-east corner of the compound, down to 2.60m below the road surface. These
were similar to those previously seen in testpits and boreholes in the nearby vicinity,
and they did not produce any archaeological remains.
No monitoring was carried out at the 275kV compound. Previous geotechnical and
archaeological investigations have firmly established that the deposits here that are
affected by the remediation works have no archaeological potential. They have been
shown to comprise Thanet Sand under c 0.15m of modern gravel.
Actions (login required)