Bush, Louise (2016) Neolithic, Bronze Age and Modern Activity at Bata Fields, East Tilbury, Essex. [Client Report] (Unpublished)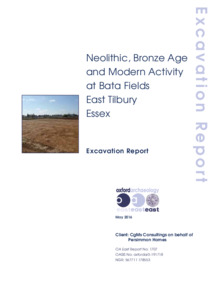 Preview
PDF




XEXBAT14_Report_1707_LR.pdf


Available under License Creative Commons Attribution Share Alike.
Download (3MB) | Preview
Abstract
From October to November 2014 and from April to June 2015, Oxford Archaeology East carried out two archaeological excavations on land off Bata Avenue, East Tilbury, Essex (NGR 567711 178553) ahead of the construction of a new housing development along with associated roadways, open green spaces and sub-surface drainage infrastructure.
The works (totalling 2.92ha) identified archaeological remains ranging in date from the Late Neolithic through to the Late Bronze Age along with modern agricultural activity. The finds assemblage was dominated by pottery dating from the Middle Bronze Age, the majority of which was found in a large north-south to west-east aligned ditch on the western side of the site. Lesser amounts of Late Neolithic, Early and Late Bronze Age were also collected. High quality struck flint (which was particularly prevalent across the eastern side of the site), quantities of baked clay and baked clay objects were also present. Environmental remains were generally poor, with the small quantities recovered likely to be the result of accidental scatter rather than deliberate deposition. These environmental assemblages were almost exclusively collected from pits and postholes, with the majority of the ditches being sterile.
The earliest feature on (the eastern side of) the site was a Late Neolithic/Early Bronze Age double enclosure measuring approximately 11m by 15m. This consisted of an annular ditch with a contemporary sub-rectangular ditch extending westward from it, with a small possible entrance way to the south. A single cremation was recovered from the centre of the sub-rectangular enclosure but with no associated dating evidence the cremation was subject to radiocarbon dating, returning a result of 1741-1535 cal. BC.
Situated in the eastern centre of the site was a small annular ditch (with an internal measurement of just 3.5m). This 'mini barrow' dates to the Middle Bronze Age and contained a small assemblage of pottery and struck flint. Two further highly truncated possible barrows were identified to the east and south-west. No datable material was recovered from these. No internal features were identified within the barrows.
A total of eight linear gullies on two separate alignments were seen to be running toward and terminating at the barrow. These sets of parallel gullies could potentially be droveways of Middle Bronze Age date. Each set of gullies formed a routeway between 2m and 5m in width.
Small pits (some containing Middle Bronze Age pottery and worked flint) were found scattered across the excavation area with some clustering, particularly in the north-west area of the site to the north of a very large ditch. The ditch, which measured up to 3.5m wide and 1.6m deep, contained a layer of dark soil rich in burnt flint and a mix of Late Deverel-Rimbury and early Post Deverel-Rimbury pottery. The pottery-rich fill is reminiscent of a midden which may have been located on its northern edge.
Across the north-western side of site was a Middle Bronze Age coaxial field system, aligned north-east to south-west, with smaller internal divisions seen extending at right angles from it.
Two sides of a Middle Bronze Age enclosure were found on the eastern side of the site, with a staggered entranceway on its south-west side. Within this enclosure were approximately 30 postholes forming a number of structures. Also seen within this enclosure was a large area of compacted ground containing Middle Bronze Age pottery, loomweight fragments and struck flint. This has been interpreted as a potential work area. Another similar (yet smaller) area was seen across the centre of the western side of the site.
Located at the southernmost end of site, close to one of the droveways was a single pit containing a large quantity of cremated bone and Late Bronze Age pottery. Another cremation was found on the western side of the site, but did not contain any pottery. Two complete urns and the truncated base of a third were also identified on the north-western side of the site. However, these were devoid of cremated remains.
Across the entire site was a series of modern field boundaries, which was positioned on the same alignment as the Middle Bronze Age field system. These ditches correspond with field boundaries on the 1873 and 1938 Ordnance Survey Maps.
Overall, the archaeological excavations at Bata Fields have identified features relating to a prehistoric settlement, funerary and monumental landscape with activity spanning the Early Neolithic through to the Late Bronze Age.
Item Type:
Client Report
Uncontrolled Keywords:
archaeological excavation, archaeological watching brief, essex, thurrock, east tilbury, neolithic, late neolithic, bronze age, early bronze age, middle bronze age, pottery, bronze age pottery, middle bronze age pottery, cremation, urn, barrow, monument, field system, co-axial, settlement, cemetery, worked flint, plough damage, bucket urn, token cremation
Subjects:
Geographical Areas > English Counties > Essex
Period > UK Periods > Bronze Age 2500 - 700 BC
Period > UK Periods > Bronze Age 2500 - 700 BC > Early Bronze Age 2500 - 1500 BC
Period > UK Periods > Neolithic 4000 - 2200 BC > Late Neolithic 2700 - 2200 BC
Period > UK Periods > Bronze Age 2500 - 700 BC > Middle Bronze Age 1600 - 1,000 BC
Period > UK Periods > Neolithic 4000 - 2200 BC
Period > UK Periods > Post Medieval 1540 - 1901 AD
Divisions:
Oxford Archaeology East
Depositing User:

Chris Faine

Date Deposited:
14 Jun 2017 15:46
Last Modified:
14 Jun 2017 15:46
URI:
http://eprints.oxfordarchaeology.com/id/eprint/3240
Actions (login required)