Hughes, Vix Ambrosden Court, Merton Road, Ambrosden, Oxfordshire. [Client Report] (Unpublished)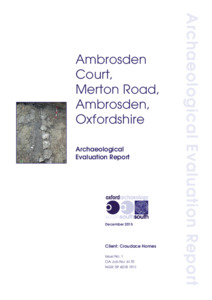 Preview
PDF




AMMR15_pdfA.pdf


Download (5MB) | Preview
Abstract
November 2015 Oxford Archaeology was commissioned by Croudace Homes to
undertake an archaeological evaluation of the site of a proposed housing
development at Ambrosden Court, Merton Road, Ambrosden, Oxfordshire (centred
on SP 6018 1911). A total of 13 trenches were excavated across the proposed
development which aims to construct 45 new homes. The work was undertaken as a
condition of Planning Permission (planning ref: 13/01669/OUT). Evidence was found for agricultural activity of late-medieval/post-medieval date
across the site in the form of field drainage features including plough furrows, field
ditches and drains. No evidence of earlier activity was recorded on the site. A series
of sterile ditches were identified and may have formed part of more extensive
fieldsystems, either acting as field boundaries or assisting drainage. The exact
dating of some of the fields are unknown since very little dating evidence was
recovered but residual fragments of abraded Roman material were found in one
ditch. A number of the ditches are, in general, on similar alignments to the furrows
and it may be that they are remnants of strip fields. Two 17th-18th-century stone
drains were also seen aligned NW-SE in two of the trenches. These were perhaps
associated with attempts to further define and improve the drainage close to the
floodplain fields to the south-west. The 19th-century OS mapping for the area shows that the western side was
regarded as marshy ground. This has been substantiated by the sequence of
alluvial deposits overlain by peaty/humic material in the western most trenches. A
clear change was seen within one of the trenches which corresponds to an old field
boundary. Deliberate dumping of material to raise the ground level and allow the entire
western field to be utilised, appears to have occurred in the mid-20th century. The
material used as infill was consistent with Victorian demolition rubble. It is assumed
that these were demolished and imported from elsewhere, rather than representing
any in-situ structures present on the site.
The evaluation identified several phases of drainage features indicating that there
have been sustained attempts to utilise the edge of the floodplain. No features were
found to pre-date the late medieval/post-medieval periods and what was found is
consistent with an agricultural landscape. Based on these results the site is believed
to have low archaeological potential.
Actions (login required)