Nicholls, Kathryn (2016) An Iron Age Enclosure, Roman Pottery Kilns and a Post-Medieval Trackway at Zone B, RAF Brampton, Cambridgeshire. [Client Report] (Unpublished)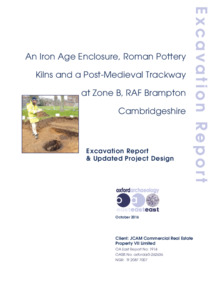 Preview
PDF




BRARAF16_Report_1914_LR.pdf


Available under License Creative Commons Attribution Share Alike.
Download (5MB) | Preview
Abstract
In March and April 2016 Oxford Archaeology East undertook a 0.37ha excavation at RAF Brampton, Cambridgeshire (centred TF 2087 7007), which focused upon an area of prehistoric and possible post-medieval activity defined by evaluation in 2015.
Whilst the excavation revealed some of the remains anticipated from the trial trenching, the most significant and unexpected result of the investigation was the discovery eight Early Roman pottery kilns clustered in the south-east corner of the site. The pottery kilns contained in-situ pedestals alongside clay plates, spacers and large quantities of Roman pottery including wasters. These kilns date to 60-80 AD and were largely producing lid seated jars with their lids.
These kilns were particularly well preserved and provide an insight into Early Roman pottery production in this area of Cambridgeshire, adding to a growing corpus of broadly contemporary kiln sites in the county, such as those at Swavesey, Duxford, Greenhouse Farm and the Addenbrooke's Hutchison Site. Other features dating to the Roman period at the site included a small number of pits, ditches and gullies. It is uncertain whether these features were directly related to the pottery kilns and pottery production, though one of the ditches appeared to represent a southern boundary to kiln field.
West of the kiln area, a small number of features were uncovered dating to the Iron Age. These comprised the partial remains of a large sub-rectangular enclosure, an additional ditch and a series of small pits and post-holes. Very few finds were recovered from these features, suggesting the focus of occupation lay beyond the excavation area.
At the north end of the site a series of north-east to south-west aligned ditches were revealed which defined the route of the original Park Lane. The lane is depicted on historic estates map of Brampton Park, and ran along the southern boundary of the park until the mid 19th century when the park was expanded further south, and a new Park Lane constructed. Other post-medieval features revealed included a series of large inter-cutting ditches to the north of the lane, which potentially represent the former park boundaries. To the south, smaller ditches and post-holes were also attributed to this phase, and are likely to be plot boundaries outside of Brampton Park. Very little material was recovered from these features other than brick and tile, potentially from the nearby destruction of former buildings associated with the Park.
Item Type:
Client Report
Uncontrolled Keywords:
archaeological excavation, cambridgeshire, huntingdonshire, brampton, RAF brampton, roman, kiln, kilns, pottery, pottery kiln, jar, lid, kiln furniture, fired clay, in-situ, post-medieval, boundary, boundaries, brampton park, 19th century, iron age, pit, ditch, gully, clay, clay plate, waster
Subjects:
Geographical Areas > English Counties > Cambridgeshire
Period > UK Periods > Iron Age 800 BC - 43 AD
Period > UK Periods > Post Medieval 1540 - 1901 AD
Period > UK Periods > Roman 43 - 410 AD
Divisions:
Oxford Archaeology East
Depositing User:

Chris Faine

Date Deposited:
29 Jun 2017 14:12
Last Modified:
29 Jun 2017 14:12
URI:
http://eprints.oxfordarchaeology.com/id/eprint/3252
Actions (login required)