Morgan , Stephen (2016) An Archaeological Evaluation at Walnut Tree Hospital Sudbury, Suffolk. [Client Report] (Unpublished)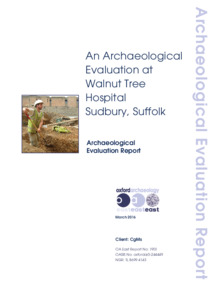 Preview
PDF




Report 1901.pdf


Available under License Creative Commons Attribution Share Alike.
Download (137MB) | Preview
Abstract
An archaeological evaluation was carried out at Walnut Tree Hospital, Sudbury, Suffolk (TL 8699 4143) prior to a proposed residential development. The fieldwork took place between the 7th and 9th of March 2016. A total of five trenches were excavated within the development area.
The history of this site is that of a late medieval college (1374-1544), a borough workhouse (1702-1834) and a poor law union workhouse (1837-1929).
In Trench 4, positioned in the north-western part of the site, the remains of a brick built structure were found which possibly related to the 19th century hospital known to lie to the rear of the Sudbury Union Workhouse. No other archaeological features (other than modern ground make up) were identified.
Comparison of the results of this evaluation with those from an associated window sample study has enabled a model of the natural topography of the site to be generated. This model shows that the natural land surface in the western part of the site (close to the river) is approximately 3.50m lower than that in its eastern part and that the site had been terraced in the modern period.
Actions (login required)