Booth, Paul and Champness, Carl A Romano-British Cremation Burial, Near Whitchurch, Aylesbury Vale, Buckinghamshire. [Client Report] (Unpublished)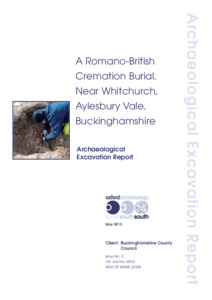 Preview
PDF




CRESLO14_Final.pdf


Download (4MB) | Preview
Abstract
In October 2014 Oxford Archaeology (OA) was commissioned by Buckinghamshire
County Council to undertake an archaeological excavation at Whitchurch, Aylesbury
Vale, Buckinghamshire (centred on NGR SP 80943 22258). The work was
undertaken to investigate a potential burial assemblage that was identified during a
metal detecting rally. The findspot is located adjacent to a suspected Roman villa
within an arable field that has previously produced a concentration of Roman finds.
The excavation revealed a Roman (late 2nd century AD) wooden box burial (1.10m
long by 0.70m width) with a rich assemblage of grave goods including two samian
ware cups, two samian ware dishes, a pottery flagon, two glass vessels, a bronze
jug with decorated handle, bronze patera, iron open or lamp holder, two unidentified
lead objects and a cremation urn which contained an intaglio (a rare find in such a
context) and remains of nailed shoes as well as the burnt human remains. The
remains of the wooden box were identified as an outline of iron nails and organic
deposits within the burial pit. The pit was backfilled with the excavated boulder clay
natural and then later sealed by modern ploughsoil. The grave goods were found insitu
but have been disturbed by ploughing and partly crushed by the use of heavy
farm machinery.
The burial lies at the western edge of the distribution of a group of relatively rare
cremation burials found across south-eastern Britain which contain glass and
bronze vessels and lighting equipment. Amongst these the present burial is one of
only a handful with a 2nd century date, and is therefore an important addition to this
body of evidence, containing a characteristic combination of object types, of which
the decorated jug is individually the most significant, with its religious scene
depicting human figures worshipping in front of an altar. Because of the apparently
unique detail of this decoration it is a piece of national importance, enhanced by
association with a securely dated burial context.
Actions (login required)