Graham, Steven (2016) Archaeological Excavation at the Woolf Institute, Westminster College, Cambridge. [Client Report] (Unpublished)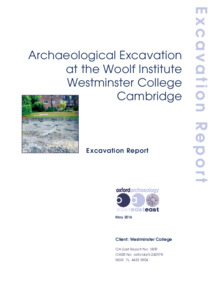 Preview
PDF




Report 1809_LR.pdf


Available under License Creative Commons Attribution Share Alike.
Download (2MB) | Preview
Abstract
Between June and July 2015 OA East conducted an excavation within the grounds of the Woolf Institute, Westminster College, Cambridge. The site, which is located just under 100m to the south-west of the (later) walled area of the Roman town known as 'Duroliponte', revealed a fairly dense sequence of settlement-related features spanning the Roman and post-Roman periods.
Ceramic evidence indicates that this predominantly agricultural settlement was probably established in the very latest Iron Age to Early Roman period (AD30-60), with the absence of samian in the earliest features, comprising a series of enclosure/field ditches, suggesting a pre-Conquest origin. The site appears to have been re-organised fairly rapidly after the mid 1st century, with the cutting of numerous narrow north-east to south-west aligned gullies. Other settlement-related features include the remains of at least two probable agricultural structures, one containing a hearth or oven, along with numerous pits. This was followed by a change and possible decline in activity in the mid 2nd to 3rd century, represented by the cutting of two parallel boundary ditches and a well; the latter truncating one of the earlier structures. Evidence for activity after the 3rd century is limited to a few surface finds of coins and two inhumation burials. The burials are not well-dated but their presence suggests that the site was located on the edge of any contemporary settlement (and possibly a cemetery of unknown extent) at this time.
In general, this site probably represents part of a small farming community, which also undertook some low-level metalworking, that developed within the immediate hinterland of the Roman town.
Despite the close proximity of an Anglo-Saxon cemetery to the south of the site, the evidence for activity of this date is limited to a single possible pit that truncated one of the burials. Medieval and later activity was represented by a few pits, layers and finds: evidence that is consistent with the site being located within fields and subsequently gardens until the construction of the college in the late 19th century.
Item Type:
Client Report
Uncontrolled Keywords:
archaeological excavation, cambridgeshire, cambridge, westminster college, woolf institute, roman, roman cambridge, duroliponte, field system, land use, pottery, burial, inhumation, roman pottery, metalworking, post-medieval, garden, field
Subjects:
Geographical Areas > English Counties > Cambridgeshire
Period > UK Periods > Post Medieval 1540 - 1901 AD
Period > UK Periods > Roman 43 - 410 AD
Divisions:
Oxford Archaeology East
Depositing User:

Chris Faine

Date Deposited:
17 Aug 2017 12:39
Last Modified:
17 Aug 2017 12:39
URI:
http://eprints.oxfordarchaeology.com/id/eprint/3276
Actions (login required)