Gorniak, Mariusz Boulton Moor, Chellaston, Derby (Phase 4). [Client Report] (Unpublished)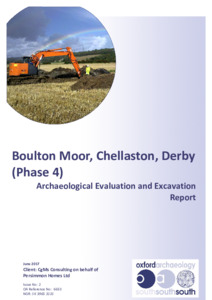 Preview
PDF




CHBM17.pdf


Download (6MB) | Preview
Abstract
Twenty evaluation trenches representing a 3% sample of the site were
excavated on a standard north-south by east-west grid. Archaeological features
were few, but a sub-rectangular pit was found in the centre of the site in Trench
15 that contained charcoal and small sherds of prehistoric pottery, and a 10m
square was opened up around this to determine whether it was an isolated pit
or part of a larger group. Four similar pits were found on an east-west
alignment, the pits spaced just over 1m apart, and a further pit on the same
alignment was found in a trench to the west. A gully running obliquely across
the pit alignment was also exposed in Trench 15, plus two pits of different sizes
south of the alignment. The only other feature possibly of ancient origin found
was an undated larger pit in a trench further to the south-west.
Several probable east-west furrows were revealed, one dated by pottery to the
post-medieval period, plus a recent field boundary ditch. A north-south ditch
crossing the middle of the site contained 19th-20th century finds, and was
probably a former field boundary. A large pit of 19th century date was partly
exposed at the north edge of the site.
Due to the desire to begin construction, evaluation was followed immediately
by further archaeological mitigation of the pit alignment and associated
features in and around Trench 15. This was extended considerably, as was
Trench 14 containing the pit further west. Further 10m squares were dug to the
west and east on the projected line of the pit alignment.
Fifteen pits of the alignment were exposed in Area 15, and five in Area 14, but
no pits were found in the 10m squares further west or east. A further area (Area
21) was therefore stripped closer to Area 14 on the west, and another (Area
22) not far east of Area 15. Area 21 proved to be blank, suggesting that in this
direction the alignment had ended, but Area 22 found three further pits on an
ENE-WSW alignment. This was different from the alignment in Area 15, so the
blank 10m square further east was extended northwards on the new projected
alignment, and located another five pits. The pits of the alignment therefore
extended for at least 160m across the eastern half of the site.
In total 14 of the pits were excavated, and fragments of pottery temperedIn total 14 of the pits were excavated, and fragments of pottery tempered with
quartzite were found in five of these, but no other finds except burnt flint and
a possible fragment of utilized stone. A sample of charcoal from one of the pits
produced a radiocarbon date of 760 – 420 cal BC at 93% confidence.
One of the pits in Area 15 was cut by two lengths of curving ditch roughly at
right angles with a gap in between, the north-eastern length recut by a
shallower gully. The gully, which continued beyond Area 15, contained sandtempered
pottery with ferrous inclusions including a pedestal base, suggesting
an Iron Age date. South of the alignment one deep and one shallow pit, plus
five probable small pits, were found, but none produced any dating evidence.
Actions (login required)