Hughes, Vix Brewers Arms Banwell North Somerset. [Client Report] (Unpublished)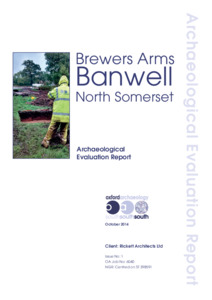 Preview
PDF




BABA14_pdfA.pdf


Download (7MB) | Preview
Abstract
Oxford Archaeology South (OAS) was commissioned by Rickett Architects Ltd on
behalf of their client Punch Taverns Ltd to undertake an archaeological evaluation
of the site of land adjacent to the Brewers Arms, Banwell (centred on ST398 591).
The work was carried out prior to, and to inform, determination of a planning
application for three new houses.
The work was undertaken between 13th and 15th October 2014. A total of three
trenches were excavated across the site.
Within the three trenches dug it was possible to identify a natural root hollow in
Trench 1. There were a small number of man-made features consisting of; a
rounded pit in Trench 2 which continued to the west; a NW-SE aligned ditch in
Trench 1; a parallel feature of aligned stones north of the ditch in Trench 1,
interpreted as the base of a wall; and a sequence of deposits throughout Trench 1
generally sloping downward from south to north.
The undated ditch may have functioned as a small boundary feature and served to
help drain water down slope, before going out of use and infilling. The undated
course of wall may have been a small revetment or boundary wall, but the lack of
bonding material and relatively narrow width do not suggest that it was a wall
associated with a building. A deposit adjacent to the stone feature contained two
small abraded pieces of mid 2nd century or later Roman pottery. The undated pit was
regular and deliberately dug for an unknown function.
No evidence of medieval settlement was recorded on the site.
Actions (login required)